Carbon Fiber Surfboards Hit the Beaches
by Tencom Ltd.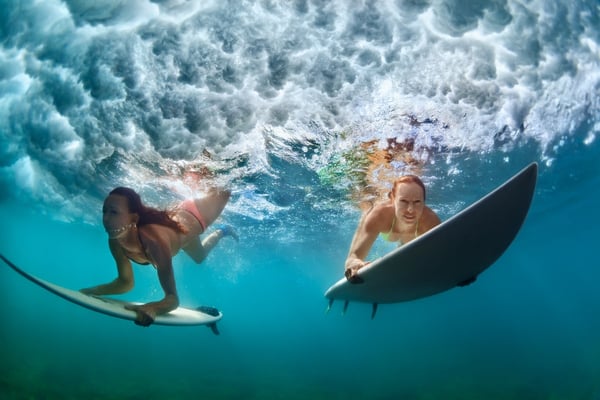 Sporting goods are increasingly using Fiber Reinforced Polymer (FRP) composite materials because of the lightweight, strong properties in materials like carbon fiber.
What's even more impressive is that FRP composites can be recycled and crafted into an entirely new form.
The folks over at JUC SURF have put their heads and experience together to create recycled carbon fiber surfboards for beach lovers everywhere.
Eco-Friendly Surfing
Keeping sustainability in mind, the trio of founders at JUC SURF knew they needed a way to create eco-friendly surfboards. After working for Boeing and Ford, they learned about the carbon fiber parts from airplanes and vehicles that end up in landfills. So, they decided to take some of that waste and turn it into something useful.
Carbon fiber can be cut up and milled for use in another project. Tissue forms and reclaimed fibers are fairly easy to recycle.
Taking the carbon fiber in various forms, the company has a specific use for each type. Chopped carbon fiber is used in a higher mixing ratio, milled carbon fiber is added to the resin to toughen it up, and reclaimed carbon fiber is incorporated in specific spots to strengthen the piece. With this method, there is no waste left behind.
One of the biggest concerns with surfboards is the overall stiffness. So, the makers at JUC SURF have come up with a specific weave pattern that works best with their supplies.
The surfboards are shaped, woven to the right density and treated, resulting in the world's first recycle carbon fiber surfboard that is lightweight and strong enough to hit the waves.
FRP Composites in Sporting Goods
The benefits of using FRP composites to create sporting goods are plentiful. Both fiberglass and carbon fiber can be used to manufacture strong, lightweight, impact-resistant products for athletic purposes. Here's why.
Conventional materials like wood and aluminum are susceptible to various forms of damage. Due to the pultrusion process, sporting goods made from fiberglass or carbon fiber are both flexible and long-lasting.
For instance, wood can mold, warp, and even rot when it is exposed to the elements such as moisture, heat, or insects. Something as simple as sun exposure can destroy a wooden piece of sports equipment.
Meanwhile, aluminum is subject to thermal and electrical damage. While aluminum does not rust, it is conductive. It is also susceptible to high temperatures.
FRP composites are non-reactive materials that don't need any additional chemical coating. Wood, for example, requires a special coating to make the product more water-resistant or fire-retardant.
However, such chemicals are toxic to the environment as they can leach into the groundwater once the piece of sports equipment is tossed into the trash heap. Furthermore, these chemical coatings are expensive to apply which can increase the cost of the final sales price of the product.
Looking specifically at fiberglass sporting goods, these non-conductive, corrosion-resistant materials are ideal replacements for aluminum and steel in tennis rackets and golf clubs. Not only are they 75% lighter, but they will also not corrode or oxidize over time.
There is a good reason why you can't golf or play tennis in the rain. Steel and aluminum golf clubs are like lightning rods. Plus, steel is highly susceptible to rust from moisture.
Sporting Goods
FRP composite materials can be used in tennis rackets and golf equipment. If fact, the incorporation of pultruded products in this industry is not limited to equipment.
Materials like carbon fiber can even be used in sporting goods products such as running shoes and helmets. Let's take a look at some of the most common sporting goods applications.
Cycling is a popular sport that increasingly makes use of FRP composites. You can easily find bicycles with carbon fiber components that are used to make the bike lightweight without compromising on structural integrity.
Most recently, we highlighted the new Eeyo 1 ultralight eBike made entirely out of carbon fiber – it weighs just 27.5 pounds.
Winter sports is another great category for FRP composites to shine. This is because carbon fiber and fiberglass materials are resistant to heat.
On the opposite end of the spectrum, these materials are also resistant to extremely cold temperatures. You can see an example of this with the use of FRP composites to create cryogenic spheres for outer space missions.
Meanwhile, back on Earth, we use FRP composites in equipment for winter sports because it can withstand rigorous demands.
Snowboards and skis crafted out of FRP composites can hold up under immense pressure and speed for competitions. Since these are also water-resistant, it ideal for snow sports.
FRP composites are also used in water sports gear. Besides carbon fiber surfboards, other examples include paddle board fins and even boats or jet skis. Again, the fact that FRP composites are water-resistant and lightweight plays a major role in their performance.
Golf requires balance, speed, spin, and the perfect set of golf clubs. Professional players look for lightweight clubs that have excellent shock-absorption rates, which they can find with carbon fiber and fiberglass products. Steel is far too heavy.
Also, fiberglass and carbon fiber composites are often used the creation of racquet sports gear such as squash, badminton, racquetball, and tennis. In fact, the racquet sports category is the second largest in the world for the use of FRP composite materials.
According to market research firm Lucintel in 2019, growth of the global sporting goods industry is pegged at a compound annual growth rate of 3.2% from 2018 to 2023, and will reach an estimated market value of $579 million by 2023.
Sporting Goods from Tencom
With over 22 years of experience with FRP composites, our experts here at Tencom can create high-quality, long-lasting sports gear for various games and athletic events.
You can even request customized colors to match your team, sponsor, or brand. For more information, get in touch with us today.