Top 5 Composite Cars Shaking Up the Fossil Fuel Industry
by Tencom Ltd.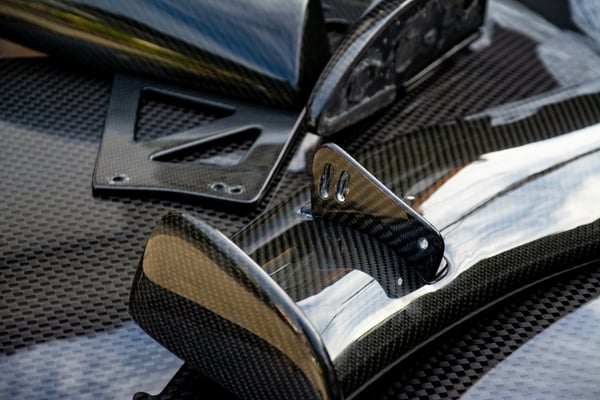 When it comes to supercars, fuel efficiency is not something that is usually taken into consideration.
Most people just want something sleek, shiny, and speedy to impress fellow drivers on the road. However, with the help of Fiber Reinforced Polymer (FRP) composites, newer sports cars are becoming more eco-friendly by the minute.
In this post, our experts here at Tencom shine the spotlight on 5 incredible FRP composite cars that are shaking things up in the fossil fuel industry.
1. Corvette Stingray
Currently in its eighth generation, the new Chevrolet Corvette Stingray is back and better than ever before. Its lightweight, aerodynamic design features a curved rear bumper that helps reduce the total weight of the vehicle.
As one of the most popular sports cars in America, the Corvette is well known for its sleek, curvy body style. Keeping this in mind, the Chevrolet engineers knew that if they were going to design Fiber Reinforced Polymer (FRP) composite components for the Corvette, those components would need to be curvy.
Manufactured with 60% carbon fiber and 40% resin, the new back bumper for the Corvette Stingray took on a slightly rounded shape thanks to the chrome-plated steel molds during the casting portion of the pultrusion process. The specialty resin used in this process is urethane acrylate.
Powered by a 6.2-liter V8 engine, the new Corvette gets about 27 mpg on the highway due to its weight reduction. That's a number many Corvette fans never thought they'd see. However, this particular sports car hasn't adopted a hybrid or electric powertrain just yet.
2. Porsche 910e
Now we are moving into electric vehicle (EV) territory. The new Kreisel Porsche 910e is the fully-electric supercar that you probably never thought you'd see. Using dual electric motors and a low-drag coupe body style, this speedy ride can accelerate from zero to 60 mph in just 2.5 seconds.
Built out of fiberglass, this new Porsche is incredibly lightweight. It only weighs 2,425 pounds – that's a major reduction since most Porsche models weigh anywhere between 3,200 and 5,100 pounds.
The dual electric motors are powered by a series of lithium-ion batteries that push out 53 kWh. Generating 490 hp and 568 lb-ft of torque, this EV powertrain offers stronger performance than the conventional Porsche 911 Carrera.
Technically, since this fiberglass Porsche EV is more powerful than its predecessors, it has been reclassified as a hypercar. That's one step up from the supercars, and it puts the Porsche into the same category as the McLaren P1, which is a hybrid model itself.
3. Genovation GXE
Video Credit: genovationcars.com
Using the 2019 Chevy Corvette ZR1 as a jumping-off point, the Genovation GXE took shape. This FRP composite model is also fully-electric and is certainly a path that Chevrolet engineers need to consider venturing down.
Pumping out a staggering 800hp and 700 lb-ft of torque, this electric powertrain blows the traditional supercharged V8 motor into the dust. What's even more impressive is that this lightweight hypercar can hit a top speed of 220 mph. That makes the Genovation GXE the fastest electric vehicle available today.
Furthermore, this FRP composite model comes with all of the high-tech amenities that drivers love including advanced smartphone integration.
4. Alieno Arcanum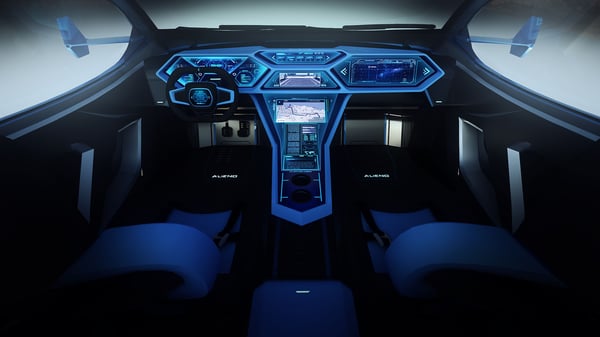 Pic Credit: alienohypercars.com
Another FRP composite hypercar to land on our list also happens to be electric. Designed to feel more like a spaceship than a car, the Alieno takes driving to a whole new level.
The vehicle features prepreg carbon fiber and Kevlar-reinforced racing seats that are power-adjustable to suit the driver's height. These comfortable seats also come with memory foam and are covered in premium leather upholstery.
Another FRP composite component in the Alieno is the steering column. Made from prepreg carbon fiber and Kevlar, this steering unit is robotic and comes with memory settings. The pedal box is also robotic to give a more complete look and feel to the interior.
The same carbon Kevlar composite material was also used for the robotic butterfly wing doors. Like all hypercars, the Alieno is a coupe that comes with two doors.
The electric powertrain generates an astonishing 5,221 hp and can hit a top speed of 303 mph. It even comes with two heated and cooled cupholders. However, with a price range of about $1,760,000, we doubt anyone would want to take drinks inside.
5. The Liberty
Taking the final spot on our list is the Liberty. Although you may not have heard of it before, this innovative ride is a flying car. Yes, you read that right.
Built out of carbon fiber and steel tubes, this lightweight transport weighs only 1,455 pounds. It has been in the works since 2015, and the designers expect it to hit the market in 2022. As a coupe, it can carry up to 2,006 pounds, and it can travel both on the road and in the air.
The Liberty is not a hypercar. It isn't even a supercar, but it is a flying car. On the road, it can reach a speed of 99 mph, and in the air, it can hit up to 110 mph. It can even fly up to an altitude of 11,482 feet. Once it passes all of its road and air tests, it will gain the appropriate certification to be operated in Europe.
Backing Away from Fossil Fuels
At this point, you may be wondering why so many hypercars (and flying cars) are moving away from the fossil fuel industry with their electric powertrains. The answer is quite simple.
Recently, California Governor Gavin Newsom signed an aggressive executive order that will ban the sale of new gasoline-powered vehicles by 2035. While California is only one state, the sale of hyper, super, and sports cars throughout the Golden State is quite prevalent.
Automakers in the United States have been making moves to create more eco-friendly vehicles. To aid in this attempt, the use of FRP composites in the auto industry is becoming more common.
Fiberglass and carbon fiber help to reduce the overall weight of the vehicle, which can lead to an improved fuel economy and faster speeds.
To learn more about FRP composites, contact our team today.