Regulations Bring FRP Composites to the Forefront of Infrastructure
by Tencom Ltd.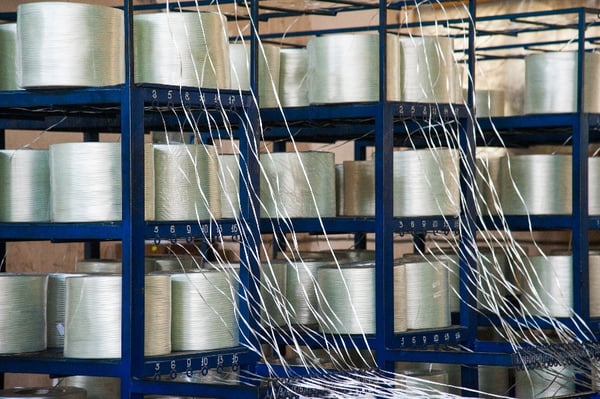 While Fiber Reinforced Polymer (FRP) composites have been around for a few decades, the use of these materials on a wide scale is relatively new compared to conventional building materials like wood, stone, and metals.
As humans, we have survived the Stone Age, the Bronze Age, the Copper Age, the Industrial Revolution, and now we have made it to what we like to call the Composite Age.
Characterized by lightweight, long-lasting fiberglass and carbon fiber profiles, it only makes sense that new legislation should be passed.
American Composite Manufacturers Association
In the modern world, it can be very difficult to get anything done in the legal system without the help of an organization. That's why the American Composite Manufacturers Associations (ACMA) was formed.
As the largest composite industry trade group in the world, the ACMA offers education and expertise to help the composite industry prosper. Furthermore, this group works hard to push for favorable regulations and new legislation to promote the use of FRP composites across all 50 states and in a wide range of industries.
One of the industries that has been in desperate need of new legislation is infrastructure. Since the United States government is almost entirely responsible for the overall condition of the country's infrastructure, the group has made it a priority to back bills and regulations that would put FRP composite profiles in the spotlight.
To date, ACMA has helped get six major bills passed that help to regulate and normalize the use of FRP composites in infrastructure. Due to the group's annual Infrastructure Day Fly-In event and members' testimonies in front of Congress, ACMA has also secured bipartisan support and millions of research dollars to expand the FRP composite industry.
The IMAGINE Act
Sometimes called the Innovative Materials for America's Growth and Infrastructure (IMAGINE) Newly Expanded Act, the IMAGINE Act has been one of the ACMA's greatest accomplishments.
Passed in 2018, this Act generated new grant programs for building better infrastructure across the United States. One of those grants was created for the Federal Highway Administration to repair and rebuild bridges. Another grant was created for the Environmental Protection Agency to optimize water treatment, filtration, and distribution.
In other words, municipalities that use FRP composite materials to reduce the cost of maintenance and extend the life expectancy of the structures are now eligible for these helpful grants.
Furthermore, the IMAGINE Act also promotes research for the next generation via the Innovative Materials Innovation Hubs that it created. Under the Act is also an inter-agency task force that is responsible for maintaining the standards of infrastructure development.
Making Moves
Before the IMAGINE Act was passed, it took two years of development to be perfected and to gain support. ACMA was right there the entire time making sure that the bill would continue on its journey through Congress until it was signed into law. While this was a major step forward in the FRP composite industry, new legislation is still in the works.
Hydraulic Structures
Another example of FRP composite regulations comes from the United States Army Corps of Engineers. In 2018, they published a best practice guide for building new hydraulic structures known as the "Composites for Low-Head Water Control Structures." The rules cover everything from dams to lift gates, and it highlights multiple FRP composite applications that can be used to minimize maintenance and optimize durability.
Going back to two years earlier, the World Association for Waterborne Transport Infrastructure also published a report called "Composites for Hydraulic Structures." This 2016 report was the precursor to the regulations passed in 2018. It showed how successful and cost-efficient the integration of FRP composites into hydraulic waterfront structures is.
While the two examples above cover the building of new or replacement hydraulic structures, there are also some regulations that have been put in place for renovating existing hydraulic structures with FRP composites.
Currently, there are two design requirements that need to be considered before repairs and revisions can happen. The first is geometric boundary conditions. This refers to the total amount of stress an existing hydraulic structure can withstand. It also pertains to the structure's dimensions, fatigue cycle, and temperature range.
The second design requirement to consider for existing hydraulic structures is the maximum load. Since the maximum load will change depending on weather and road conditions, it can be a heavy weight on the shoulders of the engineers.
Replacing Bridges
At the present time, the United States is home to around 614,400 bridges and over 245,000 of those bridges are over 50 years old. According to a recent report, approximately 47,000 bridges are in poor condition and in need of repairs. Those numbers are quite frightening, and this issue should be addressed as quickly as possible.
Getting that many bridges in good working condition in a short time frame seems like an impossible feat. However, with the help of FRP composites, this task can be accomplished quicker than you might expect.
FRP composite profiles can be customized to fit specific needs. Once the pultrusion process is complete, the products can be shipped directly to a work site. Since FRP composite profiles are so lightweight, transportation is a lot faster and cheaper.
Keep in mind that FRP composite products can also be pre-cut and pre-drilled depending on the application they are needed for. This makes the installation process so much faster. Construction teams can unload pieces with ease, and some parts may only require a final number of workers.
With all of these benefits to consider, it's no wonder that FRP composites are becoming increasingly popular these days. It's easier and faster to use pultruded products instead of steel or wood, the results last a lot longer. It's a more affordable option in the long run due to the drastically reduced cost of upkeep.
If you would like to learn more about our pultruded products here at Tencom, get in touch with our experts today.