Power Lightweight Moves With Carbon Fiber Running Shoes
by Tencom Ltd.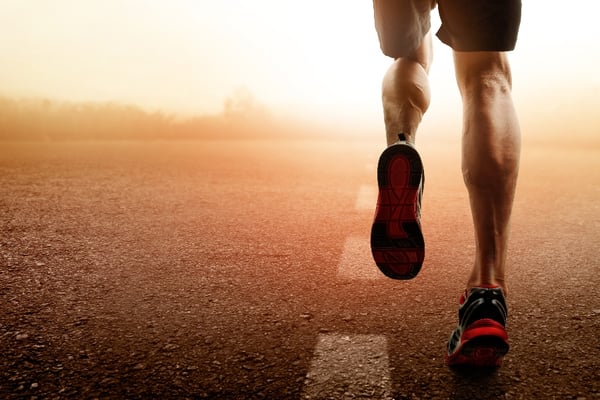 Fiber reinforced polymer (FRP) composites are increasingly being used in sports cars, boats, and aircraft.
Not only are FRP composites strong and durable, but the reduced weight allows these transports to hit higher speeds.
Taking this concept into consideration, there is no reason to think that FRP composites won't do the same thing for long distance and marathon runners.
Innovative Footwear to Enhance Performance
Several footwear companies have been experimenting with carbon fiber plates inside their running shoes ─ the very first pair was unveiled more than 15 years ago.
Released by Adidas, the groundbreaking, high-performance shoe was dubbed the AdiStar. In an effort to give runners an edge in races, Adidas inserted a thin carbon fiber plate into the midsole of each AdiStar shoe.
Even though the designers knew that this FRP composite insert helped to boost speed, they weren't exactly sure how until more recently.
It is now understood that the carbon fiber insert hel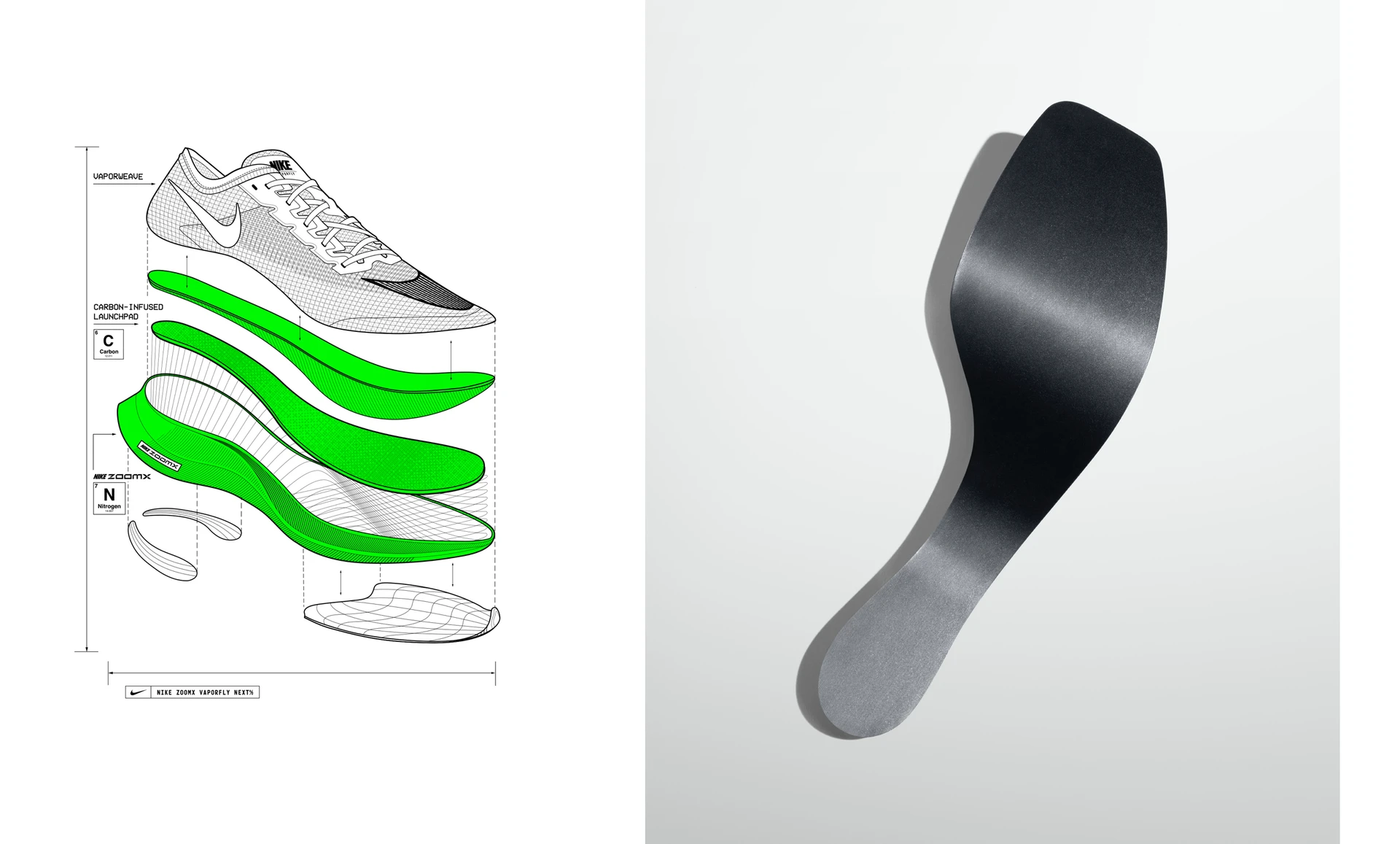 ps with the initial toe-off. This refers to the very first moment in the race when the runner's big toe bend to propel the runner forward. The FRP composite plate reduces the amount of energy lost during this crucial starting point of the race.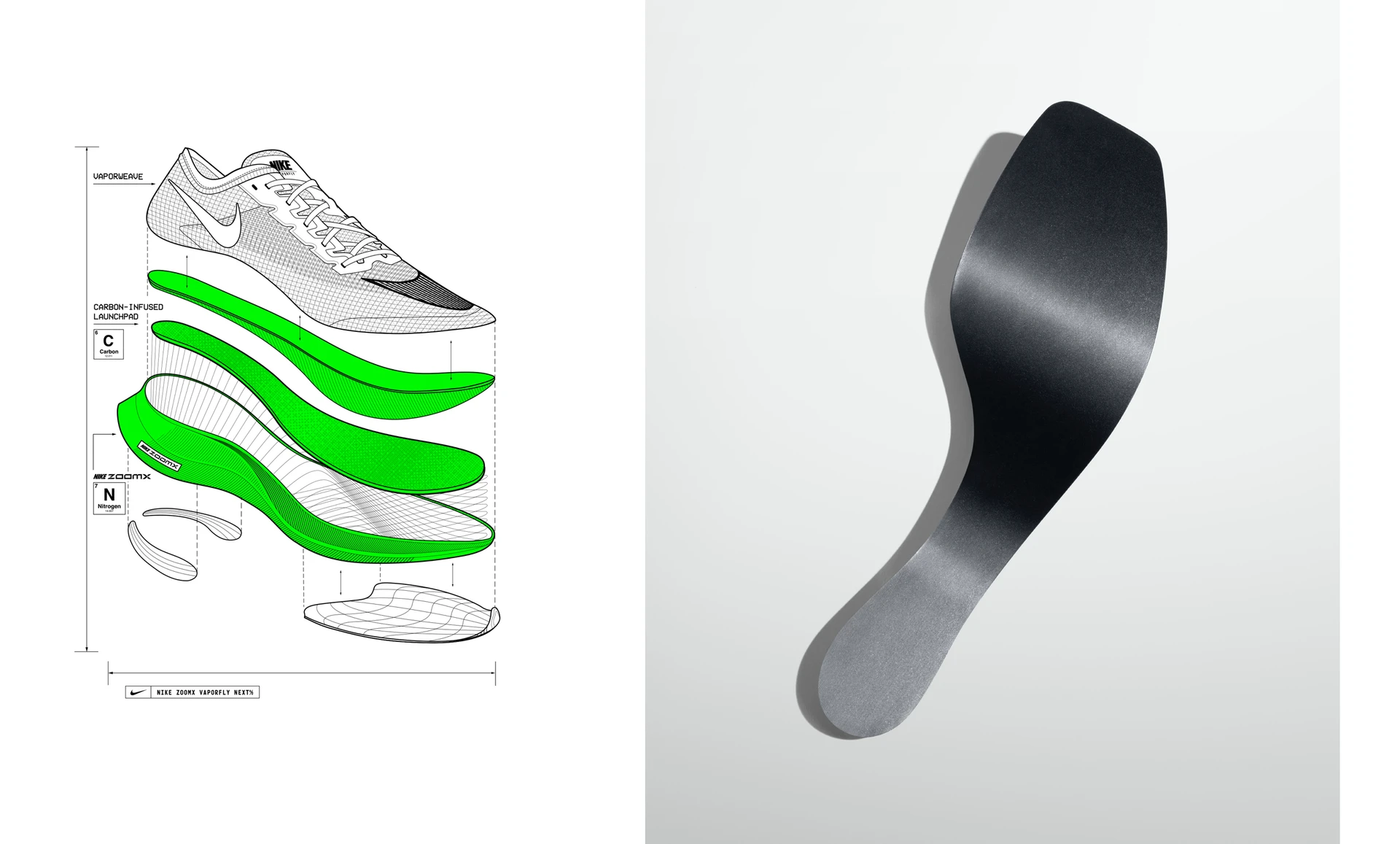 Nike ZoomX Vaporfly Next%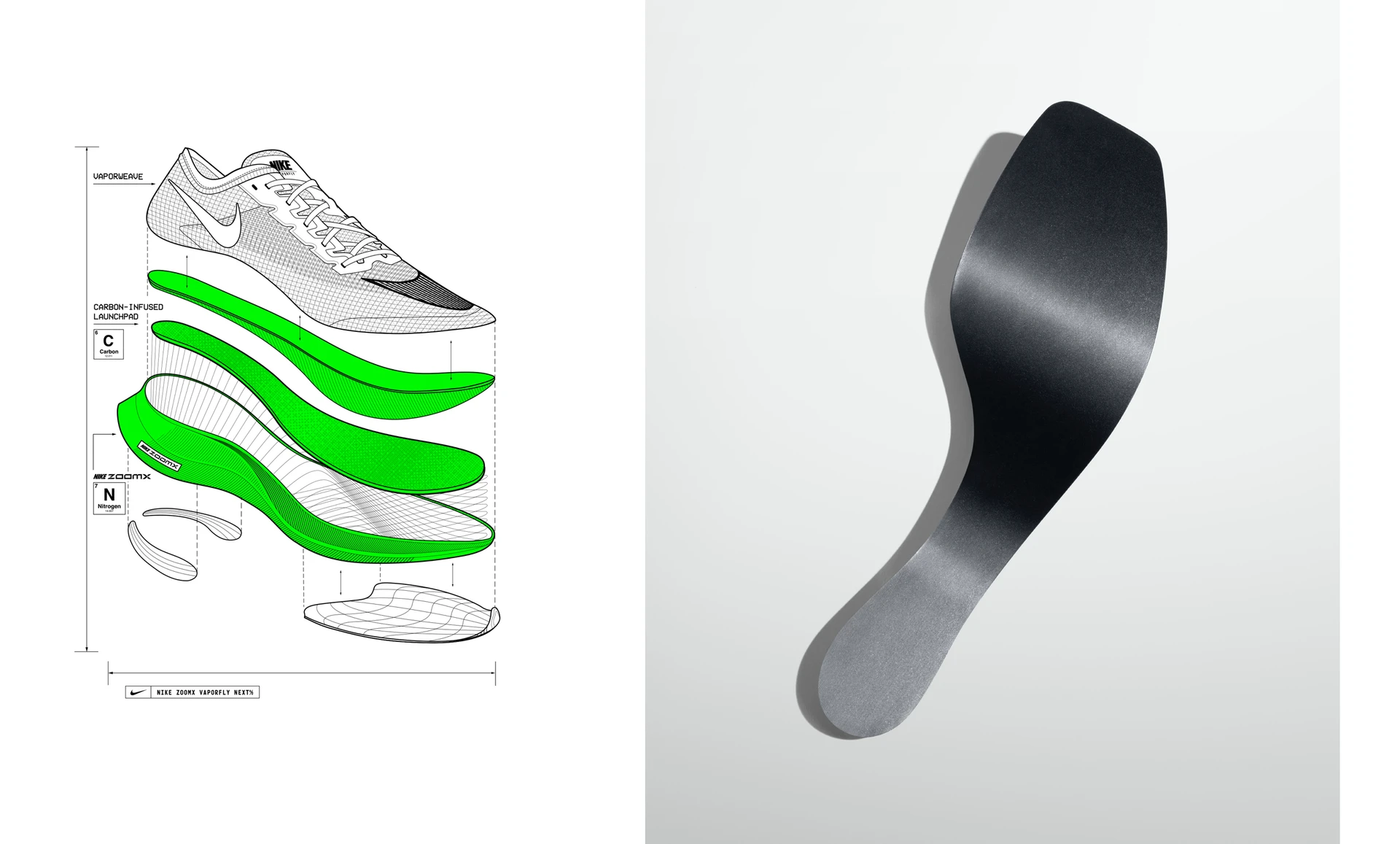 Pic Credit: Nike.com
As of today, there are six different running shoes available that have this nifty carbon fiber insert, and they cost an average of $250. The most popular carbon fiber running shoe is the Nike Vaporfly 4%.
Other models include Nike Zoom Fly 3, Nike ZoomX Vaporfly Next%, New Balance FuelCell 5280, Hoke One One Carbon Rocket, and Hoke One One Carbon X.
The Latest FRP Composite Footwear
Brooks Hyperion Elite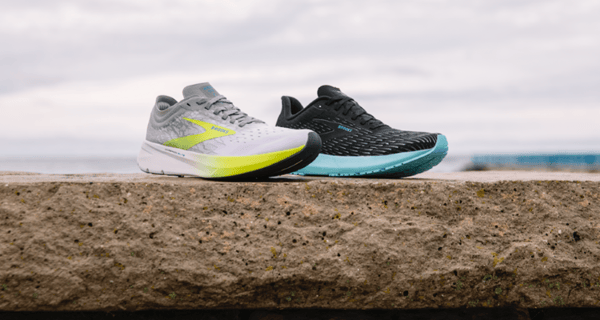 Pic Credit: Composites Manufacturing Magazine
Most recently, Brooks has also introduced a new FRP composite running shoe. Known as the Hyperion Elite, the company has been perfecting the shoe since 2017. Looking to create a lightweight, endurance-enhancing shoe for marathon runners, the designers at Brooks created a shoe that weighs only 7 ounces.
A thin carbon fiber plate was inserted between the newly-designed DNA Zero midsole, which a mixture of air and ethylene-vinyl acetate (EVA) meant to boost heel height. With this pairing, the heel weighs 25% less than foam, and it is raised from 20mm to 28mm. This very distinctive design gives the runner an energy "pop" at the beginning of the race, and it acts as a stabilizer throughout the race.
Furthermore, the construction of the shoe's spine also works with the added carbon fiber plate. Together, they speed up and smooth out the heel-to-forefoot transition in every step the runner takes. This is often referred to as the toe-off propulsion effect. In other words, this shoe is not just a piece of clothing. It is a functional tool that professional runners can use to maximize their own energy expenditure.
As for future developments, designers at Brooks have already started prototyping the Hyperion 2.0 shoe, and World Athletics has already ruled that carbon fiber running shoes can be used at the next Olympic games.
What Happened to Foam?
If you think back to the early 2000s, athletic shoes with foam inserts were all the rage. Lightweight foam paired with polyester fabrics helped to reduce the weight of the shoes and improve the overall comfort level. However, something was missing.
Carbon fiber is generally used in fast vehicles. You see it used to build supercars, speed boats, aircraft, and even in racing bicycles. Putting this FRP composite material to use inside of marathon running shoes just makes sense. Not only is it more lightweight than foam, but it is also stronger and helps to stabilize the ankle joint throughout the race.
As we mentioned before, the energy expenditure in the initial toe-off was the main concern of shoe designers. While foam may be comfortable and increase the runner's speed a bit, it does nothing for the initial toe-off or the stability of the feet during the race.
A carbon fiber insert will also help keep the toes straight during the run, and it will reduce the load on the calf muscles. You won't get any of those benefits with foam.
More Than a Running Shoe
Since the main benefit of using FRP composite plates inside athletic shoes is to improve a runner's initial toe-off, it makes sense to see long-distance runners using these shoes in competitions. However, there are many other sports in which athletes can benefit from these carbon fiber shoes.
Shock absorption and an energy return boost are both qualities that jumping athletes can also benefit from. These shoes are constructed a bit differently. They are designed with flexible insoles made up of layers of carbon fiber instead of a solid, rigid plate.
The carbon fiber layers are all different lengths, and they are arranged in multiple directions to improve flexibility. Athletes who need to jump frequently, like volleyball and basketball players, can enjoy the benefit of a higher jump and a more comfortable landing.
Studies have shown that these flexible carbon fiber insoles for jumping sports provide a 9% rate of force development. Essentially, this means that an athlete wearing these shoes can explode into the air rather than just jump.
Other Benefits
Another benefit of using carbon fiber inserts in shoes is that these FRP composites are resistant to impact and moisture. Sweat from running 26km will not cause corrosion to the carbon fiber plate or weaken it in any way.
Also, repetitive use will not cause wear and tear to the shoe either. The carbon fiber insert will last longer than the rest of the shoe, which makes it very reliable for long-term use.
Working with Tencom
With over 22 years of experience with FRP composites, one of our specialties here at Tencom is sporting goods. Carbon fiber has been widely used in the sporting goods industry since the 1990s, and it remains one of the fastest-growing manufacturing sectors for pultruded products. I
f you would like to learn more about our FRP composite products, get in touch with our experts today.