Camping Made Easy by Lightweight Carbon Fiber
by Tencom Ltd.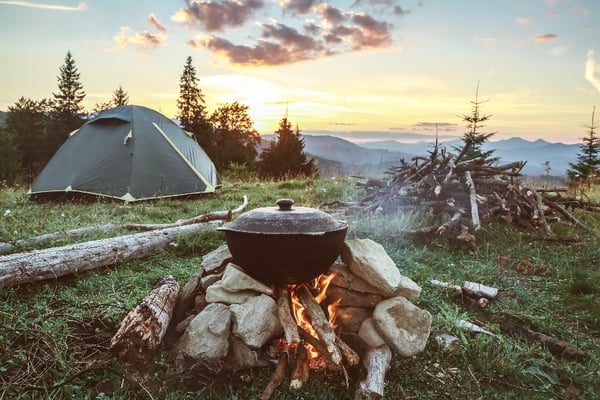 At Tencom, we use carbon fiber and fiberglass materials to create lightweight sporting goods and equipment parts.
When you think of sporting goods, the first thing that probably comes to mind is golf clubs, fishing poles, and other pieces of gear that you can use outdoors. However, the sporting goods category also includes outdoor equipment, wearables, and even camping gear.
In this post, we look at a new carbon fiber camper/tent hybrid that is unlike anything you've seen before.
The Rooftop Camper/Tent
The first thing that most folks do when they go off on a camping trip is to find an appropriate spot to pitch a tent. If we go by pop culture references, assembling the tent is the hardest and most time-consuming part of the trip.
We've seen time and time again in comedy shows about big-city executives trying to reconnect with their families by going camping. Everything usually goes wrong in a series of hilarious and unfortunate events like taking six hours to finish putting up the tent. The characters usually end up sleep in the car, and, of course, a bear shows up at some point.
Although the misadventures on such camping trips are exaggerated for comedic purposes, pitching a conventional tent can be very time-consuming. That's why the Redtail Rooftop Camper was created. This hybrid camper/tent is placed on top of the vehicle and offers more security than a normal cloth tent.
This innovative creation is built with insulated carbon fiber for the roof and floor. It features three hard walls that are hinged and can fold in on themselves in about 30 seconds. All you have to do is push a button. There are no canvas pieces on this camper. It comes with sliding windows made of polycarbonate and screens.
For comfort and convenience, this hybrid camper also comes with solar panels located on the roof. These provide campers with 330 watts of power which can be used to turn on a diesel heater.
A 60 amp lithium battery bank is also included for energy storage. This type of green energy system allows the camper to operate entirely without pulling power from the vehicle. There are no wires or cables to be bothered with, which helps to make the installation easier.
Two models have been created. The first is designed for two adults, and it can be fitted to the top of a mid-size SUV. Weighing only 190 lbs, it's one of the lightest weight rooftop campers available on the market.
The second design is created for two adults and two children. It weighs 250 lbs and can be installed to the top of a pickup truck or van.
FRP Composites in Sporting Goods
One of the main reasons why Fiber Reinforced Polymer (FRP) composite materials have been so successful in sporting goods applications is that they are very lightweight. While steel was once the go-to material for building sturdy products, its heavier weight made it impractical for many applications.
Aluminum had its moment to shine as a lightweight metal, but it still doesn't compare to fiberglass or carbon fiber, which can be up to 75% lighter than other materials.
These FRP composite materials are incredibly lightweight and very strong. The overall tensile strength was not compromised by the lighter weight. In fact, FRP composites have proven to be just as strong (if not stronger) than steel and aluminum.
The list of resistances that FRP composites boast is very long. Fiberglass and carbon fiber pultrusions are resistant to heat, electricity, water, corrosion, rust, sun exposure, impact, wind, and even insects. If you are investing in camping equipment, all of these benefits are something to consider.
Your camping gear will be outside in the elements. Although meteorologists give us their weekly weather predictions, sometimes pop-up storms happen. If that happens while you are out camping with fiberglass or carbon fiber gear, it won't be that big of a problem.
FRP composite materials are non-conductive, which means that they don't conduct electricity. Whether you own the aforementioned hybrid camper/tent or a carbon fiber fishing rod, you don't have to worry about getting zapped.
Other FRP Composite Gear for Camping
We've covered camper/tent hybrids and fishing poles, but there are many other pieces of equipment you can bring along on the camping trip. FRP composite materials can be used to create bicycles, kayaks, paddleboards, helmets, trekking poles, lounge chairs, and even backpacks.
Such recreational equipment are designed to handle the strain of the outdoors. Lightweight and extremely durable, these products are designed to last. Meanwhile, FRP composite wearables such as impact-resistant helmets and lightweight backpacks make dressing for camping so much easier and safer.
Tencom FRP Composite Products
Our experts here at Tencom have over 22 years of experience under their belts. Our list of pultruded products includes a variety of pieces that can be applied to sporting goods including rods, poles, tubes, bars, and more.
Our fiberglass rods are made from polyester, vinylester, epoxy, and urethane. They can be customized in size from 100-ft to 2,000-ft in length and various thicknesses as well. It typically takes three to four weeks for the fiberglass rod pultrusion process to be completed.
Our fiberglass poles are created out of vinyl ester resin and electrical glass. Used in a wide range of applications, we can customize your FRP composite rods to suit whatever project you have underway. The average processing time can take anywhere from four to five weeks to complete.
Fiberglass tubes are another pultruded product that we specialize in. These are 70% lighter than steel and 30% lighter than aluminum. They can be used to create handles for various tools such as snow shovels, tree pruners, and more.
Finally, fiberglass bars from Tencom can be used to create high-performance sports gear and outdoor furniture. These pultruded pieces are resistant to moisture damage and sun exposure, which means that the lifespan of your camping gear will be greatly extended.
To learn more about our pultruded products here at Tencom, contact our experts today.