Corrosion Eats Into Your Project's Bottom Line
by Tencom Ltd.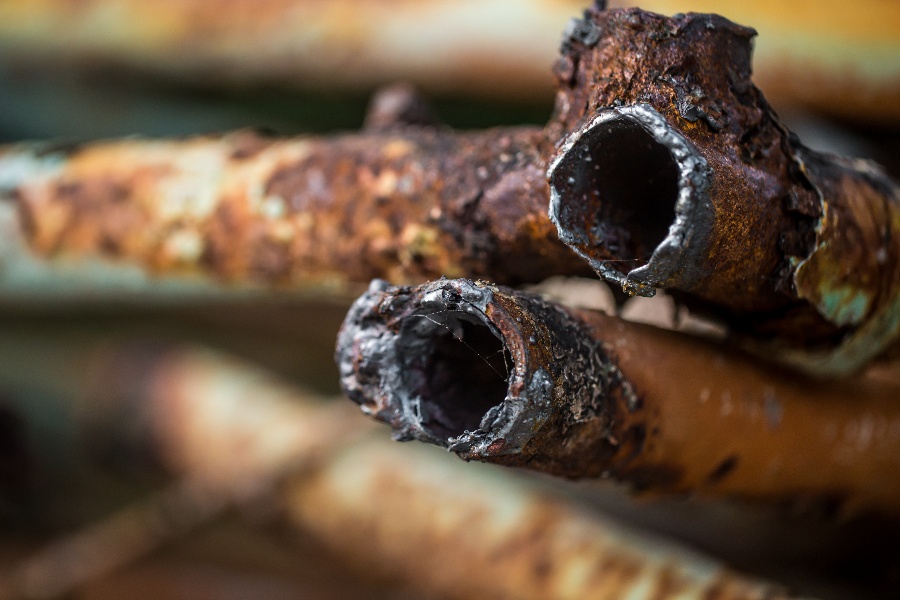 As technology evolves, many industries require specific products with properties that traditional materials ─ such as steel, aluminum, wood ─ cannot match.
Many industry sectors need options that are both durable and lightweight to meet specific and rapidly evolving needs. This is where the composite product such as fiberglass has earned its place as a versatile construction material ─ a low-cost product with high-value characteristics ─ which has allowed it to replace long-used materials such as steel, aluminum, and wood.
Fiberglass, more specifically considered pultruded fiberglass, is a unique structural material combining fiber reinforcements and thermosetting resins. Pultrusion is a method of manufacturing by which fiberglass is made. This process involves drawing the fibers through a special resin bath. To find out more about this, click here.
The fiberglass profile retains its integrity even when environments are subject to temperature extremes. Metals such as steel expand in heat and contract in very cold temperatures. In contrast, pultruded fiberglass products can be made with specific attributes in mind.
Such attributes are determined by the composite matrices: achieved by varying the resin system and glass content properties. For example, conductor rods are made by co-pultruding the fiberglass-reinforced resin with copper wires.
Fiberglass products ─ tubes, rods, channels, poles ─ can be produced to meet a broad range of specific requirements for various uses and applications. Each of these products can be made with varying compositions so as to provide extra tensile strength, withstand extreme temperature ranges, or provide flame-retardant and track-resistant attributes. They can be machined, butted, chamfered, rounded, slotted and pointed.
Specifically designed pultruded fiberglass will not be compromised by invasive pests nor degrade when exposed to moisture, temperature extremes or UV radiation from the sun.
Pultruded fiberglass is extremely resilient and is ideal for outdoor applications where it comes into direct contact with the elements or where the material is going into the ground. FRPs require little maintenance when compared to wood or rust-prone materials like iron or steel.
Rust Costs Money
In the last few years, the demand for composite products ─ where products such as metal or wood have traditionally been used ─ has surged because of their corrosion-resistant qualities. In fact, rust is proving to be an item of concern.
One such application is in external environments where (support) structures are subject to chemical exposure or where insect degradation is rampant. These include water treatment plants, outdoor walkways, decks and utility poles. On a global basis, the cost of rust damage is staggering.
In the United States, the US Department of Defense has estimated that rust costs the government $21 billion annually. On a macro scale, the World Corrosion Organization estimates that the yearly cost of worldwide corrosion is calculated at a whopping US$2.2 trillion, which adds up over 3% of the world's gross domestic product (GDP).
Project managers are also increasingly open to using composites as an alternative to traditional materials. With their resistance in moist, watery and chemical environments, composites are increasingly making composites the material of choice for the replacement for exposed metal structures. These include tanks, cooling towers and railcars for chemical transport.
Growth Going Forward
Going forward, more industries will start replacing aluminum and steel with pultruded materials. Market analysts Lucintel indicated in its Pultrusion Market Report that by 2024, the pultrusion market will see revenues hit US$3.4 billion.
This growth is propelled by an "increasing demand for corrosion-resistant, lightweight, and durable products for various end-use industries."
Tailored to Your Needs
Pultruded profiles can be tailored to your requirement by varying the resin systems and glass content to produce pultruded fiberglass profiles with different properties to meet specific requirements. For example, corrosion-resistant, high tensile strength, high-temperature tolerance, track-resistant and flame-retardant.
Fiberglass profiles can be fabricated, transported and assembled on site. In fact, it can be an excellent material for fences, curtain walls, baffles, and so on. It can also be used to build impressive facades, unique floating roofs and structures.
Fiberglass products are ideal for soil and land stabilization in residential properties, coastal areas, national parks and public access areas and bridges. Pultruded products are corrosion-resistant and will not deform or be attacked by pests, insect damage.
Advantages of Using Composites
Here are the advantages of using fiberglass profiles:
Simple to handle and install. Pultruded products can be cut, glued, screwed or drilled with ease.

FRP bars are also

corrosion-resistant

and are electromagnetically neutral. This means that they do not conduct thermal or electrical currents. Therefore, they are a great replacement for steel products in sectors where these attributes are required.

Maintenance Free.

The smooth surface can be easily cleaned without the

need to paint or stain.

Customized and branded. Produced according to your requirements.
Fiberglass uses polyester, epoxy, or vinyl as a polymer and is mainly used for commercial applications. Fiber-reinforced polymers have revolutionized many sectors ─ from being corrosion-resistant to being lightweight, they are an ideal replacement for old-school conventional materials.
Talk to Tencom
Tencom's team of expert engineers has helped builders, designers, architects, and manufacturers turn their concepts into reality. Our customer-first approach ensures that customers get the right product at the right time and at the right price.
We help you customize FRP components and integrate them into the manufacturing process. Contact Tencom if you want to discuss FRPs for your specific needs.