Top 5 Eye-Catching FRP Composite Attractions Around the World
by Tencom Ltd.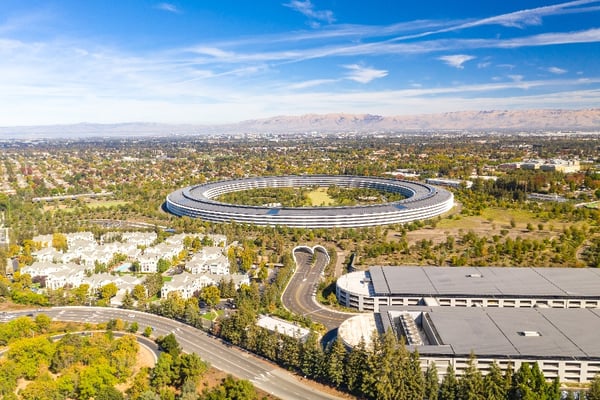 While fiberglass and carbon fiber pultruded products are commonly thought of for use as reinforcements or sporting goods, they can also be used to create various components for buildings and tourist attractions.
From floating roofs to incredible facades, these innovative Fiber Reinforced Polymer (FRP) composite designs can be found all across the globe.
This post will take a look at the world's top 5 most eye-catching FRP composite structures.
1. Tomorrowland
As part of the Shanghai Disney Resort in China, Tomorrowland is a FRP composite wonder. It is the resort's newest of 6 parks and spans over 25,000-square-feet of land. Featuring the Lilo & Stitch character encounter, Buzz Lightyear's Planet Rescue, and the Tron Lightcycle Power Run rollercoaster ride, these FRP composite attractions make the park so much more exciting.
Water-proof and durable, the designers wanted to use a material that could withstand heavy usage and also maintain specific shapes. Settling on curved FRP composites, the team was able to create a trio of attractions all with a futuristic aesthetic. From concourse base cladding to cosmetic panels, FRP composites can be found in 12 different locations throughout Tomorrowland.
2. Lucas Museum of Narrative Art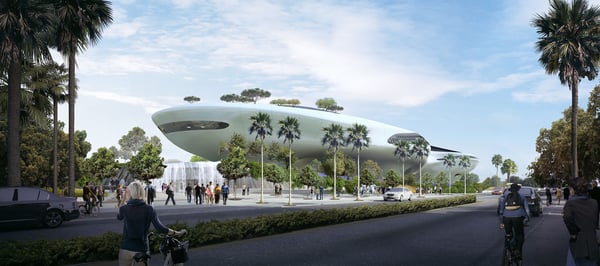 Pic Credit: Lucas Museum of Narrative Art
Currently under construction in Los Angeles, CA, the Lucas Museum of Narrative Art will be quite an impressive FRP composite building to behold once it is completed. Featuring 1,500 FRP composite panels, the completed building will span 700-feet in length and 200-feet in width over an 11-acre area of Exposition Park. According to concept photos, it will look like a cloud with its sleek FRP composite panels.
The futuristic design will be constructed out of 8 x 30-foot panels, all of which will have been uniquely shaped to form a seamless finish. Durable, flexible, and lightweight, FRP composites are the only materials that can currently withstand the force of an earthquake. Being set in southern California, this was a major factor in deciding what type of material would be best-suited to the project.
Steel columns will make up the base of the geometric structure and a FRP composite rain screen will serve as a water-proof barrier. The estimated date of completion is expected to be in 2021.
3. Carbonhaus
Located at Technical University in Dresden, Germany, Carbonhaus is an innovative building made of concrete and reinforced with FRP composite components. Spanning across 2,200 square-feet, this two-story building is virtually seamless and features a twisted roof style. Using carbon fiber composites to create a support matrix, the concrete structure was able to be shaped into the eye-catching design that it is today.
Since carbon fiber is cheaper and up to 30% lighter than steel, it was chosen for use in this ambitious project. The carbon fiber matrix is designed to provide strength and stiffness to the building and to improve the overall lifespan.
Resistant to corrosion, FRP composites won't succumb to rust over time like steel. This means that Carbonhaus should be standing many decades from now for future generations of students to enjoy.
4. Apple's Flagship Store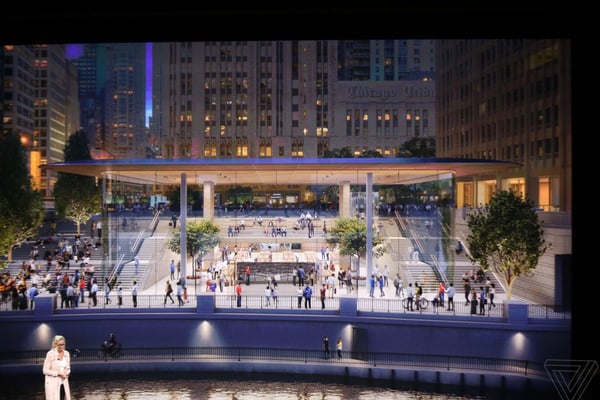 Pic Credit: Apple
Replacing an abandoned food court on North Michigan Avenue in Chicago, IL, the state's first Apple store spans over 20,000-square-feet and overlooks the nearby river. Featuring a floating carbon fiber roof, this incredible structure is quite a sight to behold. The building itself is 14-feet high and looks like it has no roof at all.
As a non-conductive material, the carbon fiber roof not only provides shade, but it also lowers the cost of cooling during the summer. Guests can enter from the street and peruse the vast selection of Apple products while enjoying a grand view of the Chicago River.
5. Apple Campus 2
Situated in Cupertino, CA at Apple Park, the Apple Campus 2 structure features the world's largest floating carbon fiber roof. Expanding on the work done at the Chicago flagship store, this subterranean auditorium is more than 120,000-square-feet and is designed as a theater. With seating for up to 1,000 guests, it also features a curved glass exterior wall comprised of 900 panels. Once inside, you can enjoy a 360° view of the Apple Park campus.
With a 14-foot diameter, the floating carbon fiber roof is the largest the world has ever seen. It was built using 44 identical panels that are 70-feet long and 11-feet wide. The entire floating roof weighs approximately 80 tons, which is still a lot lighter than if steel or aluminum had been used.
Using FRP Composites in Design
Although fiberglass and carbon fiber composites have been used to create some eye catching attractions around the world, they are mostly used as reinforcements for very specific projects.
For example, Banco Popular used FRP composites to create the floating Interpreter's Box in Madrid, Spain. Meanwhile, the West Croydon Bus Station in London, England has recently been equipped with a FRP composite canopy to shade travelers.
You can also see FRP composites used to reinforce interior elements such as bathroom showers. Since the material is cost-efficient and water-resistant, it makes sense to use it for bathrooms in apartment buildings and even hotel rooms.
In the future, we may see more contractors using FRP composites for residential homes in areas that are prone to natural disasters such as earthquakes, hurricanes, and tornadoes. Since carbon fiber and fiberglass profiles can withstand the impact of inclement weather, the cost of repairs will greatly decline.
Customized Pultrusions at Tencom
Are you looking to incorporate FRP composites into your next building project? Here at Tencom, we have over 22 years of experience with pultruded products. We can manufacture customized FRP composite products right here in our facility using our pultrusion method. From fiberglass rods to fiberglass tubes, we can produce a wide range of profiles to suit your specific needs.
If you would like to get a quote or learn more about our FRP composite products, get in touch with our team of experts today.