High Demand For Pultruded Products In Oil & Gas
by Tencom Ltd.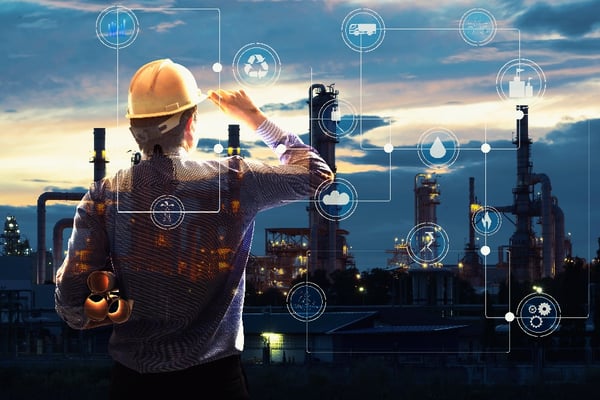 Corrosion-resistant composite materials, i.e. pultruded products, are replacing the old paradigm of what offshore oil rigs once looked like.
For decades, oil and gas rig machinery as well as tools have been molded with metal, then positioned into the ocean. Most, if not all metal offshore drilling and gas tubing platform applications are made of some type of metal. When metal compounds blend with seawater, corrosion occurs which eventually weakens the metal.
With the introduction of pultruded products, oil and gas companies have found a material that is durable, sustainable, and even more environmentally friendly than previous applications.
The systems of oil and gas pipes with which producers explore for oil and gas and/or transport oil and gas are subject to oxidation, which affects the overall quality of the product sourced. Such corrosion affects the machinery itself and the environment in which it is placed.
By offering more resistant materials like pultruded options, companies and their products ensure high quality, overall safety, and increased capital over time while upholding integrity with the environment, an area that warrants global attention.
As oil and gas companies grow their respective markets, their best bet is to choose materials that that can last longer while costing less. This has resulted in the growth of the pultrusion market.
Oil and gas rigs as well as other offshore drilling machinery have increasingly embraced the use of pultruded products. With a rise in environmental concern and a focus on profitability, civil engineers have been put to the task.
Extensive applications in the field of oil and gas have had to undergo serious evolution to maintain their status in the market. Civil engineers have turned to pultruded products to envision and expand their projects across varied oil and gas industries and applications.
As demand increases, so does the drive to drill deeper. According to a study reported by Composites World, in 2013 only 35% of production sourced from wells of 300m depths or more.
However, by 2015, that figure rose to 95%. Today, more than 20% of wells delve beyond the 2,000m depth. Considering the situation and environmental stresses, traditional steel pipes no longer serve their original purpose.
The article also cites a TechnipFMC partnership with Magma Global to construct a pipe for offshore applications.
This (pipe) is made of new carbon fiber composite hybrid flexible pipe (HFP), a trailblazer in the world of pultruded products. It offers increased strength and durability while decreasing the weight and cost.
Similarly, shortly after, Airborne Oil & Gas developed their own pultruded product survey, resulting in the thermoplastic composite pipe (TCP).
Both innovations launched and found success in the area of deep-sea presentations for pultruded product applications.
Oil and gas projects fuel demand for pultruded products
The benefits of pultruded products allow for the transition from metal to composite materials to be simple and logical.
When considering future success, oil and gas companies must focus on innovation technology to rise above competitors while maintaining high levels of integrity in the biosphere. Pultruded products satisfy both needs and are ideal options for advanced applications.
Pultruded materials are a driving force in new technology. Most oil and gas companies value a pioneering spirit and composite materials bring them to the forefront.
To be a leader, calculated risks and appropriate investments create advancements. It is highly unlikely that other innovations in the construction of oil and gas rigs can compete with pultruded products. For this reason, companies who seek higher returns value pultruded products.
With pultruded products being much lighter in weight (than steel), oil and gas companies have more freedom in construction and logistics when it comes to transportation and implementation. Pultruded materials uphold high-strength character. With oil and gas exploration, the capacity to last longer means less repairs and time saved.
Pultruded products have a high strength to weight ratio when compared with steel. Although steel was once a coveted material globally, with technology discoveries on the rise and directing towards pultruded products, oil and gas companies must keep up and choose materials that have better success rates to execute tasks.
Since pultruded products are malleable, they suit the requirements for a variety of gas and oil technology applications. Pultrusion technology reaches into various segments because its uses can be tailored.
Currently, there are several material combinations to satisfy the industry's demands for the end product and increase marketability.
Pultruded products are highly resistant. Reinforcement products must be (and are) engineered to carry its own weight; therefore the use of carbon fiber cables as a solidification material reduces weight and fortifies sturdiness.
In turn, operations such as deeper drilling and buoyance reduction in offshore excursions are better executed. Both umbilical and flexible pipes made from pultruded materials and used for deep-water installations are ideal for oil and gas companies.
Additionally, composite technology is comprised of contents such as electrical conductors and fiber optics, both considered prime players in operations like well intervention and lifting ─ perfect for oil and gas proposals and projects.
The key product features which include corrosion resistance, safety and maintenance requirements, impact absorption and low maintenance, make such products ideal for use in all types of oil and gas facilities.
Today, such products can be found on offshore platforms, floating facilities, processing skid packages, marine terminals, storage facilities, gas processing plants, land-based and offshore drilling rigs, subsea manifolds as well as refineries.
Characteristics of pultruded products:
As strong as steel on a pound-for-pound basis
Weighs up to 75% less than steel
Have longer life-cycles when used as a reinforcing material
Have lower life-cycle costs than steel which often requires painting or galvanizing to maintain
Resistant to corrosion
Low maintenance costs
Do not conduct heat or electricity