Composites Boost the Need for Speed
by Tencom Ltd.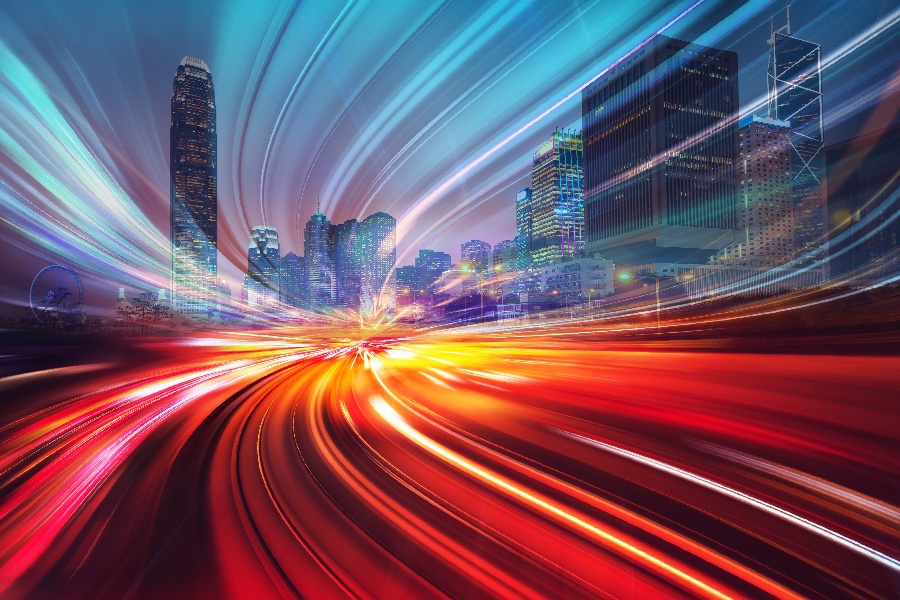 Put yourself in the shoes of a race car driver where his whole mindset is geared towards speed and performance.
An edge, even a slight one, over other cars can be the difference between winning and losing. Of course, the person at the wheel has to do his job but this is where a composite material like carbon fiber can provide a little extra oomph. Yes, the material of choice impacts a race car that much.
Let's look into how using Fiber Reinforced Polymers (FRPs) can affect how a vehicle runs.
Race cars need a powerful engine ─ that's part of the equation. A light and powerful car enables auto-racing mechanics to tweak the car to go quickly through corners. The other part comes from the driver.
For many years, race cars for tournaments like the Daytona 500 and Indianapolis 500 were made of metal. However, big engines and other car parts can be very heavy which can slow down a vehicle.
The ideal situation in auto racing is to produce a vehicle that is lightweight but still powerful and can quickly maneuver around corners without the driver losing control or the vehicle turning turtle.
It started in the 1980s when makers of racecars and race car parts started incorporating carbon fiber in their products. Carbon fiber is extremely strong, thin and light.
Meeting the Needs of Auto Racers
Carbon fiber car parts enable racing teams to build fast vehicles that are lightweight and easy for a driver to navigate. An important criteria for racers to select one material over another is durability. As competitive racing puts a lot of stress on their vehicles, drivers have to be confident that their vehicles can make it through a lap without breaking or showing signs of stress. Because of this, car parts have to be made of a durable material that can withstand constant beating.
Another criteria is that the material has to be strong. When subjected to high pressure, car parts need to maintain integrity. To meet these requirements, many car parts are made of steel, which can be heavy. In contrast, carbon fiber is strong and stiff and lighter than steel. It is about 5 times stronger than steel and 2 times as stiff. These attributes make it the right material for race cars that need strong car parts. Carbon fiber car parts can achieve higher levels of performance compared to parts that are made out of steel.
Carbon fiber is light in weight, which means that race cars can achieve better speed. Since carbon fiber can withstand the strong forces of the elements, it makes it easier for the driver to operate.
Heat Conductivity and Expansion
Race cars produce a lot of heat. Racing teams use carbon fiber because they know that despite the high amounts of heat produced by their cars, carbon fiber parts will not be susceptible to weakening. For more on why composites are so strong, click here to download our guide to pultrusion.
When carbon fiber is used in race cars, the cars are light, strong and last longer. As such, the driver can push the car to its limits without worrying that the car will come apart. Carbon fiber is a great conductor of both heat and of electricity. While the resin matrix that is used is a good insulator, the carbon fibers themselves do not insulate.
The carbon fibers are used to draw the heat away from its source and allow it to dissipate instead of building up (as may happen with metal). The composite as a whole may provide a degree of insulation as the resin may keep the heat from transmitting to the carbon fibers and this, as well as the dissipation may result in a cooler condition at the heat source.
A prime example comes from the new Chevrolet Corvette Stingray with a lightweight, aerodynamic design featuring a curved rear bumper that helps reduce the total weight of the vehicle. The Corvette ─ one of the most popular cars in the United States ─ is well known for its sleek, curvy body style. Keeping this in mind, the Chevrolet engineers designed curvy Fiber Reinforced Polymer (FRP) composite components for the Corvette.
Made with 60% carbon fiber and 40% resin, the back bumper for the Corvette Stingray has a slightly rounded shape thanks to the chrome-plated steel molds during the casting portion of the pultrusion process. The specialty resin used in this process is urethane acrylate. Its reduced weight means that the new 6.2 liter V8 engine Corvette gets about 27 mpg on the highway.
The Corvette ─ as with other cars like this ─ produce a lot of heat, especially at faster speeds. Using pultruded products to build cars like this can prevent overheating and thermal damage. FRP composite materials can help prevent rust damage and erosion when it is exposed to the elements.
Wind, water, sun, and dirt can all cause rust or erosion over time if the vehicle is built out of steel. With materials such as carbon fiber, car enthusiasts don't have to worry about any of those issues.
Fibreglass Car
The Kreisel Porsche 910e is a fully-electric fiberglass supercar using dual electric motors and a low-drag coupe body style. This sweet ride can accelerate from zero to 60 mph in just 2.5 seconds and is more powerful than its predecessors. The Porsche EV has been reclassified as a hypercar and is in the same category as the McLaren P1, which is a hybrid model itself.
This model is lightweight, weighing just 2,425 pounds – that's a major reduction since most Porsche models weigh anywhere between 3,200 and 5,100 pounds. The dual electric motors are fed by a series of lithium-ion batteries that push out 53 kWh. Generating 490 hp and 568 lb-ft of torque, this EV powertrain offers stronger performance than the conventional Porsche 911 Carrera.
Outside of composites being favored in auto racing, composites are used frequently in motorsports and lower-volume, high-end/ luxury vehicles. Growth in both segments continues.
Global Market
According to Grandview Research, the global automotive composite market size was valued at US$ 20.76 billion in 2019. From 2020 to 2027, this market is expected to grow at a compound annual growth rate (CAGR) of 7.5%. In developed countries, strict emission control regulations, together with increasing demand for lightweight materials are expected to drive the demand for automotive composites.
Also, auto makers are bowing to pressure from governments, environmental groups and stringent pollution control norms. The Grandview Research report goes on to add, "One of the most critical factors affecting fuel efficiency and vehicular emission is the curb weight. A reduction in the curb weight can drastically increase fuel efficiency which, in turn, can reduce vehicular pollution."
Specialty Resins
Tencom experts are highly skilled in creating FRP composites using specialty resins. The additives we use can enhance a product's overall strength or fire-retardant abilities.
While our typical process from start-to-finish usually takes between three and four weeks, it can take anywhere from six to eight weeks to create FRP composite products with specialty resins. Get in touch with us today to learn more.