Fiberglass and Carbon Fiber Used to Build Nature-Inspired Pavilion
by Tencom Ltd.
It's no secret that Fiber Reinforced Polymer (FRP) composites are often used to reinforce buildings, but did you know that they can also be combined to create gorgeous structures that double as works of art?
Recently, the students and professors from the University of Stuttgart's Institution for Building Structures and Structural Design along with the Institute for Computational Design and Construction used fiberglass and carbon fiber profiles to create a pavilion inspired by the wonders of nature.
Let's explore how they accomplished this magnificent feat.
Advanced FRP Composites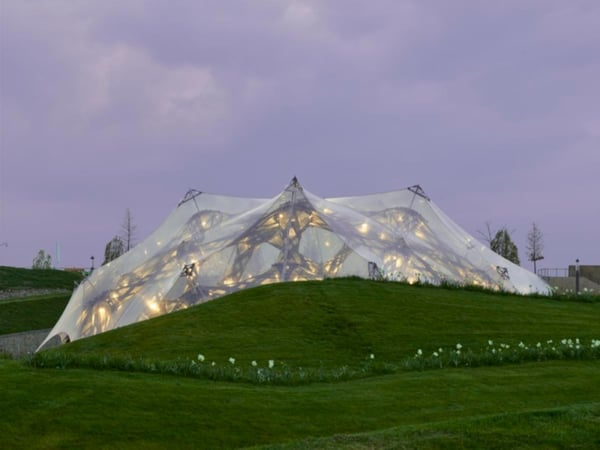 Pic Credit: www.icd.uni-stuttgart.de/projects/buga-fiber-pavilion
Located in Heilbronn, Germany, this one-of-a-kind structure features state-of-the-art FRP composite technology. With two reputable institutions working together to fabricate an innovative park pavilion, history was made by combining fiberglass and carbon fiber components.
If you were to break down FRP composites to the cellular level, you would find that the fibers used in load-bearing structures are made of materials like collagen or cellulose. A matrix material such as epoxy resin fills in the gaps to provide support and stability.
Because of the pultrusion process, the density, directionality, and organization of the fibers can be controlled and customized. This allows the manufacturers to determine which areas of the products need more strength.
Keeping these principles in mind, the BUGA Fiber Pavilion was created using the concept of highly differentiated fiber composites. This allows for optimized load-bearing properties that a typical FRP composite might not be best suited for.
In other words, both E-glass and carbon fibers were used together to reinforce the nature-inspired structure.
Building the BUGA
Part of what makes the BUGU Fiber Pavilion so extraordinary is that over 492,125 feet (150,000 meters) of arranged E-glass and carbon fibers were used to build it.
The University of Stuttgart came up with a robotic filament winding system without a core that could intertwine the fiber filaments into rovings. The filaments were attached to dual rotating scaffolds which allowed the predetermined shape to be built. Since the shape took form based on the interaction between the fiber filaments, this eliminated the need for a mold or casting.
The E-glass result was translucent fibers that created a lattice design. Meanwhile, the results for the carbon fiber was a black carbon fiber product that could be added in as a reinforcement wherever it was needed structurally. These two products combined created a distinct look and made the final pavilion more structurally sound.
Creating Pultruded Products
Here at Tencom, we have our own pultrusion process to create a wide range of FRP composite profiles.
Completely customizable, you can choose the type of fibers and resins you want your products to be made from. We offer E-glass, E-glass and mat, carbon fiber, and kevlar.
Various resins are also available including epoxy, phenolic, polyester, polyurethane, standard, and vinylester. Each type of resin offers different properties. For example, polyester and vinyl ester resins are better for enhancing the product's strength and resistance to fire.
It's always best to go over your project goals with our experts to ensure that you are getting the best FRP composite products for the task at hand.
Further customization includes colorants and pre-cutting. If you would like to add colors or patterns to the products, you may request that certain pigments be added during the pultrusion process to achieve the desired look. This is done during the liquid resin bath stage. Pigments are incorporated into the mixture. This means that you will never have to touch-up or paint the finished product. The colors will be one with the piece.
A good example of this would be a hot stick. Used by electrical and utility workers, hot sticks are generally yellow.
We also offer pre-drilling and cutting. After the pultrusion process is finished, we can cut grooves or drill holes into the pieces for quick and easy assembly. This is ideal for poles, tubes, or panels that will be conjoined at the job site later on. It makes installation a breeze. Sandblasting, grinding, and chamfering are also options that we can accommodate.
Our Process
To begin manufacturing any type of pultruded product, we start by creating fiber rovings. This is done by bundling certain types of fibers together. The roving is then pulled through a liquid resin bath. At this point, specialty resins and pigments can be added to achieve specific properties and colors.
Next, the product is pulled into a heated die, and the in-die heat curing process begins. After it is completely cured, the product can be cut into the specified lengths and pre-drilled if necessary.
In general, we offer products for industries such as construction, consumer, electrical, recreational sporting goods, telecommunications, and utility. However, we can accommodate a wide range of requests.
Our Products
With over 50 years of experience, our experts offer fiberglass angles, bars, channels, pipes, poles, and rods. We manufacture tree stakes, driveway markers, and window reinforcements as well.
As for recreational sporting goods, we can produce anything from tents and soccer poles to antennas and ATV whips. Sporting goods are not limited to games. Camping, fishing, hiking, and other outdoor activities also require special equipment.
Choose FRP Composites
Our products are lightweight, flexible, non-conductive, and have an incredibly high tensile strength. Also resistant to heat, moisture, impact, ultra-violet rays, wind, and insects, our products will last a lot longer than conventional wood and metal products.
Requiring little to no upkeep, FRP composites simply make life easier. This is why you will be seeing fiberglass and carbon fiber used to create a lot of different things besides the pavilion.
According to Research and Markets, the demand for FRP composites is expected to grow at a compound annual growth rate (CAGR) of about 4% globally from 2020 to 2025. Major factors spurring growth include increasing demand from the construction sector and increasing applications in automotive body parts.
As an innovative material, the advantages of FRP composites continue to drive growth in the years to come.
If you would like to learn more about using FRP composite profiles in your next project, get in touch with our experts today.