Impact of COVID-19 on the Market for Pultruded Products
by Tencom Ltd.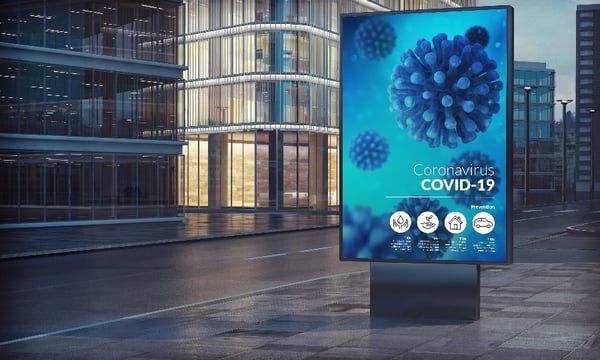 With the entire world shutting down in response to the current global pandemic, the state of the market for Fiber Reinforced Polymer (FRP) composites has left some people wondering.
Due to the applications in which pultruded products are used, the FRP composite industry has been deemed essential. This has led to a drastic increase in demand for pultruded products.
In this post, we will go in-depth into a market study to uncover the reasons behind the success of FRP composites during the COVID-19 outbreak.
Supply and Demand
FRP composites have proven to be essential for more than just the economy. People have a great need for pultruded products whether they are actively aware of that need or not. Used in various industries like construction, infrastructure, utilities, and many more, FRP composites are a crucial part of daily life.
Common applications for pultruded products include refrigeration components, cored tubing, perimeter fencing, struts, decks, seating, structural supports, and so much more. When the world stops turning, so to speak, the need for FRP composites doesn't just go away. In fact, it rises.
Resistance and Reliability
Traditionally, people have used materials such as wood and various types of metal for building projects. However, the replacement and break-down rate for these materials has proven to be much too fast.
By replacing wood and metal pieces with pultruded products, companies can save money on maintenance by choosing a long-lasting, reliable product. Let's look at a very good example from our neighbors south of the border.
In 2014, Hurricane Odile struck the Baja Peninsula in Mexico and unearthed electrical poles made of wood. Here's where things get interesting. Prior to the destructive hurricane, the local government had replaced every fifth wooden pole with an FRP composite pole.
When the winds died down and the damage could be surveyed, they notice that the only poles left standing were the FRP composite poles.
The Grand Bahamas has a similar tale to tell as well. After replacing 450 wooden utility poles with FRP composite poles, the upgraded poles were the only ones left after a string of hurricanes ripped through the island from the years 2011 to 2015.
As you can see, pultruded products speak for themselves. They can withstand natural disasters with no problem, making FRP composites the most reliable and resistant resource available today. During a global pandemic such as the current COVID-19 outbreak, this type of reliability is critical to keep the power on for millions of Americans.
Furthermore, pultruded products are resistant to heat, corrosion, impact, sun exposure, weather, and even insects. They have a longer lifespan than wood, and they require little to no maintenance.
The last thing people want to worry about during an epidemic is replacing structural or utility components. That's why FRP composites are in such high demand at the moment.
Global FRP Panels Market
Using historical data from 2016 to 2019 and projections for 2020 to 2016, the Market Research Store has recently published a study that surveys the FRP Panels Market during the COVID-19 outbreak.
This 150-page report uncovers the numerous reason why the demand for FRP composites has skyrocketed and where it is predicted to go in the near future. It contains quantitative data pertaining to market trends, challenges, opportunities, and more, and it uses pictorial representations like histograms, bar graphs, and pie charts to drive the information home.
This extensive evaluation has shown that more companies are turning to FRP composites in preparation for natural disasters and events that affect everyone globally.
FRP Composite Rebars Market
Another study conducted by In For Growth has shown how well the FRP Composite Rebars Market is doing during the COVID-19 pandemic.
Analyzing the data based on regions, product types, and the major applications, this extensive research shows the key changes in business strategies to incorporate more pultruded products in construction and infrastructure.
It's a fantastic study for businesses to read through and to understand the impact on businesses as it covers production value, growth rate, key manufacturers, and much more.
The Future of FRP Composites
While the studies all point to major success in the industry, it hasn't been all good news for pultruded products during these challenging times. Trade barriers and shipping delays have caused the supply chain to become a bit mucked up.
However, the market for FRP composites is expected to grow exponentially during the next six years as more and more construction and development companies have begun to choose pultruded products over steel.
FRP composites are lightweight, portable, and very strong. Easier to transport and install, pultruded products are a breath of fresh air to construction crews who are used to dealing with excessively heavy steel beams.
Not only are pultruded products easier to assemble, they are also resilient in the face of heat, corrosion, impact, and much more. With such a long shelf-life, FRP composites aren't going away any time soon.
In fact, people will most likely begin to become more familiar with pultruded products as FRP composites begin to be used in more visible applications in the near future.
Tencom Pultruded Products
Even with the delays in shipping, it's all good news here at Tencom. As an essential business, we have remained open during these troubling times to ensure that the needs of the people are being met in a timely manner.
We offer a wide range of FRP composites including fiberglass rods, angles, tubes, bars, channels, and poles. We also offer specialty resins and customized designs.
For the last 22 years, we have been providing custom fiberglass pultrusions to our clients, and we are looking forward to the bright future ahead.
You can have your company colors infused into your pultruded products so that everything you install stays in line with your brand identity. From window reinforcements and tree stakes to driveway markers and sporting goods, we can do just about anything with pultrusion.
If you would like to learn more about products or request a quote for your next FRP composite project, get in touch with our experts today.