Taking To The Skies With A FRP Composite Airframe
by Tencom Ltd.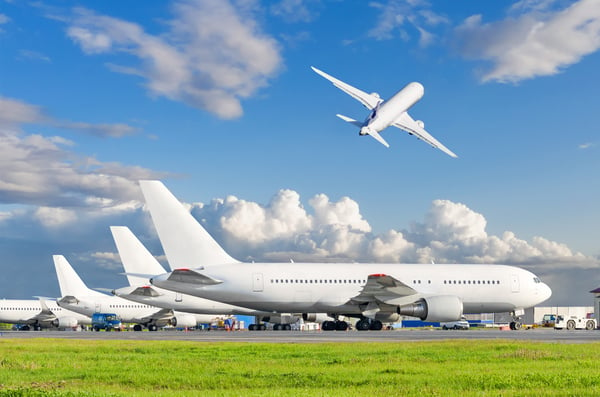 It's no secret that Fiber Reinforced Polymer (FRP) composite materials are frequently used in the aviation and aerospace industries to create lightweight, durable aircraft.
Commonly seen in the automotive industry as well, fiberglass and carbon fiber are superlative materials for manufacturing sleek, curved body parts for aerodynamic vehicles of all sorts.
Most recently, Diamond Aircraft unveiled an all-FRP composite airframe for the DA50 RG aircraft. So, what exactly does that mean? Our experts at Tencom are here to tell you more.

DA50 RG Aircraft
Pic Credit: diamondaircraft.com
The DA50 RG Aircraft
Breaking news from Diamond Aircraft is that their DA50 RG features a sparkling new carbon fiber airframe meant to boost performance and improve the overall safety levels of the plane.
Designed for pilot satisfaction, the DA50 RG also features retractable gear, a spacious cabin with seating for five people, LED interior lighting, and a Continental CD-300 jet fuel engine that produces up to 300 horsepower. It is the epitome of elegance and sophistication in a compact aircraft.
Constructed out of carbon fiber, the DA50 RG is easy to maintain and offers fantastic fuel efficiency. Since FRP composites are resistant to rust, moisture, sun exposure, thermal damage, and much more, pilots can rest assured that this aircraft won't be facing rust or corrosion issues.
Other safety features that make this aircraft one-of-a-kind include double-slotted hinged flaps for optimal lift and improved performance at low speeds, an enhanced braking system, and new wheels.
All of these innovative features help to reduce the overall drag and reduce the required landing distance. The aircraft's CD-300 engine uses turbocharged, liquid-cooled technology to generate the appropriate power when needed.
The captain can easily adjust the propeller RPM's and thrust automatically by simply pulling on the single lever controller. In other words, this aircraft was designed to be lightweight, durable, and easy to operate.
The Future of the DA50 RG
As of now, Diamond aircraft is awaiting the arrival of the Type Certificate from the European Aviation Safety Agency (EASA), which is expected to arrive sometime this summer.
The next step is to receive the FAA certification in 2021 for operation within the United States. Interested parties can expect the first deliveries of the DA50 RG to arrive at the end of the first quarter in 2021.
The History of Flying
Many people believe that the first flight is credited to the Wright Brothers. In any case, humans have been fascinated by the idea of flying for thousands of years.
While the Wright Brothers did invent the first modern airplane prototype, hot air balloons were the first aircraft to carry passengers into the sky. In 1783, balloons were the center of attention, and they eventually led to the invention of airships or dirigible balloons.
Using a craft to fly has been an idea since Leonardo DaVinci's renaissance sketches. Earlier than that, mini hot air balloons known as sky lanterns were used throughout ancient China to light up the skies on special occasions.
In the 21st century, aviation has reached heights that many of our ancestors would have never thought were possible.
Carbon Fiber vs Steel
FRP composite materials are not only used in private airplanes. If you look at many of the commercial airliners such as Boeing and Airbus, you will see even greater use of carbon fiber. Specifically, the Boeing 787 Dreamliner and the Airbus A350 XWB are constructed out of FRP composites.
Carbon fiber is much stronger and more durable than steel. While steel is sturdy and rigid, it is extremely heavy, susceptible to rust, and it does not offer the same type of flexibility as FRP composites.
Due to the pultrusion process, FRP composites exceed expectations while steel simply falls short.
Carbon Fiber vs Aluminum
If steel is too heavy and can easily fall prey to corrosion, what about aluminum? While aluminum is certainly much better to use in aircraft bodies than steel, it still doesn't compare to FRP composites. Aluminum is rust-resistant and lightweight, but carbon fiber is even lighter, and it's non-conductive and thermal resistant.
FRP composite materials can withstand extreme heat temperatures without compromising the integrity of the structure. It can also handle electrical charges because it is completely non-conductive.
The list of elements that FRP composite materials are resistant to is quite a long one. It includes resistance to impact, insects, sun exposure, moisture, heat, electricity, corrosion, rust, wind, and so much more.
Benefits of Carbon Fiber in Aircraft Manufacturing
Now that you are aware of all of the key points that make FRP composites better than steel and aluminum, our experts here at Tencom will make the case for carbon fiber (pultruded) products.
All of the amazing benefits listed above lead to the construction of airplanes that are fuel-efficient and easy to maintain.
The lightweight FRP composite material helps to cut down significantly on fuel costs. Improved aerodynamics also plays a role in that. Furthermore, carbon fiber planes will require less maintenance over the years.
While FRP composites may be more expensive than steel and aluminum initially, the money saved on fuel and maintenance down the road makes it a more attractive option.
Talk to Us
For over 22 years, our team at Tencom has been excelling in the world of FRP composites. We create a wide range of pultruded products including window reinforcements, driveway markers, tree stakes, structural components, and even sporting goods.
Our area of expertise is with fiberglass and specialty resins to create exactly what you need for your next project. Whether you are working on commercial or residential building improvements, our experts can help.
Our products have been used in construction, infrastructure, and utilities for over two decades. We've even had requests for perimeter fencing, decks, and guard rails. The sky's the limit when it comes to FRP composites.
We can even add pigments to add color and designs to your pultruded products. Want to learn more about our process and what we have to offer? Get in touch with our specialists today.