Apple and the World's Largest Floating Carbon Fiber Roof
by Tencom Ltd.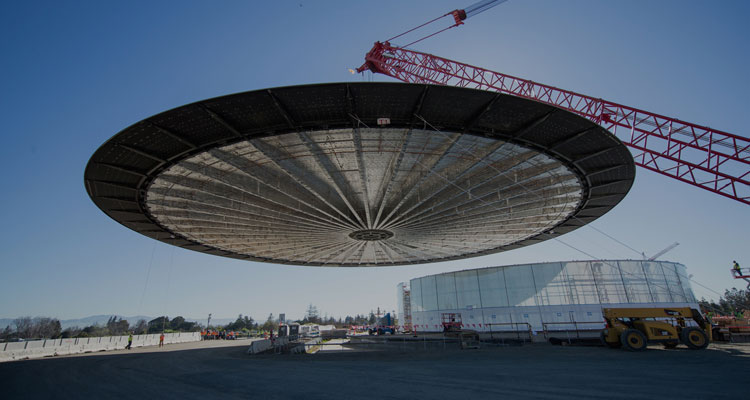 Pic Credit: Composites Manufacturing Magazine
If any company is well known for implementing state-of-the-art technology it's Apple. As one of the most successful corporations in the world, Apple has been the entity that many entrepreneurs look up to and try to emulate.
For that reason ‒ among many others ‒ it should come as no surprise that the innovative company has a building with the world's largest floating carbon-fiber roof.
Apple Campus 3 (or AC3), known now as Wolfe Campus is 4 miles from either Apple Park or the company's original 1 Infinite Loop campus. Both are within the city limits of Cupertino.
Video Credit: Minna Vauhkonen on Vimeo.
Apple Campus 2
Now known as Apple Park, the Apple Campus 2 is located in Cupertino, CA. This massive fiber reinforced polymer (FRP) composite structure makes quite an impression.
Known as the Theatre, this massive carbon-fiber roof was originally intended to be made out of aluminum. However, aluminum is old news. FRP composite materials are the wave of the future for infrastructure, transportation, and even aerospace.
The iconic carbon-fiber roof is measured at 140 ft in diameter, and it weighs upwards of 80 tons. It was carefully pieced together with 44 radial panels that measure 11 ft in width and 70 ft in length. Each panel is identical for a perfectly uniformed look.
As for the Theatre itself, the innovative design didn't stop with the floating roof. This subterranean auditorium spans over 120,000 sq ft, and it has available seating for 1,000 patrons. It cost over $5 billion to build, and features exterior walls made of 900 curved glass for a 360° view of the surrounding campus.
Measuring 46 ft long and 10.5 ft wide, these glass panels required special machinery to make them. Apple commissioned custom-made "manipulators" to create the giant glass pieces.
In other words, it looks somewhat like a spaceship. The glass building also includes research facilities spanning 600,000 sq ft, a gym, and fitted solar panels. Opened in 2017 for the iPhone 8 reveal, the Apple Theatre has kept its record for having the world's largest carbon fiber roof.
Due to its use of advanced, energy-efficient materials, the Apple Campus sits in a park that is more than 80% open space. The solar panel installation provides 100% of the facility's power with renewable energy.
Approximately 75% of the location's power is generated by the 17-megawatt solar panels and the 4-megawatt biogas fuel cells. This means that the Apple Campus 2 is one of the greenest and energy-efficient facilities in the world.
It even earned the title for the largest LEED Platinum-certified facility in North America. LEED is an acronym for Leadership in Energy and Environmental Design, and the Platinum certification is the highest title that they offer.
Furthermore, the facility uses 75% non-potable water that has been recycled to tend to the surrounding forest area.
Apple's First Carbon-Fiber Roof
Believe it or not, this isn't the first time that Apple has experimented with FRP composites. In 2015, Apple built a similar floating carbon fiber roof for its flagship store in Chicago, IL.
Sitting on the riverfront, this high-profile building features a pavilion roof made of carbon-fiber. Designed to lower the energy bill and blur the line between the interior and exterior of the building, it almost looks as though this store has no roof.
Needless to say, it seems that the creative minds at Apple enjoy creating optical illusions.
Carbon-Fiber Roofing for Residential Homes
At this point, you might be wondering if carbon-fiber is a practical roofing solution for residential homes. We've seen it used beautifully in commercial buildings such as the Apple storefront and the Apple Campus 2 Theatre. However, the question remains, will we be seeing it used in private homes as well?
As of 2020, carbon-fiber roofing has not been used for residential homes. This is mainly because of the cost. Replacing any old roof can easily run homeowners upwards of $10,000 or more. It's a very large investment for many people, and FRP composites are not cheap. Creating custom panels to fit a residential home would not be cost-efficient.
However, as advancements continue to be made in the fiber reinforced polymer (FRP) composite industry, it wouldn't come as a surprise if we start to see these materials being used in residential roofing in the coming years. Sustainable, environmentally-friendly, resistant to weather, heat, impact, and so much more, it's no wonder why some homeowners would want to replace their conventional roof.
Roofs are typically made with sheets of rubber, asphalt shingles, clay tiles, or even metal. However, all of these materials are susceptible to inclement weather, sun exposure, thermal damage, impact damage, and more. With a FRP composite roof, homeowners wouldn't need to worry about damage from strong winds or other elements.
Goodbye, Aluminum and Steel
Though Apple has not made any statement about why they chose carbon-fiber over aluminum, we suspect that it is because a FRP composite roof is energy-efficient and aesthetically pleasing.
Steel, although very strong, is heavy and impractical for a roof structure. It's also magnetic, conductive, and highly susceptible to rust from moisture. While aluminum is much more lightweight than steel, carbon-fiber is still lighter.
Aluminum isn't as susceptible to rust but it is a conductor and can be very dangerous when overheating occurs. It can also pose a hazard for construction workers to walk over while performing roof repairs. It's hot, slippery, and not nearly as strong as steel or carbon-fiber.
On the other hand, if a worker needs to inspect a carbon-fiber roof, its non-slip surface will not pose the threat of falling. It also doesn't heat as quickly as metal does.
Customization
Here at Tencom, our experts have over 22 years in the field, and we create our wide product line through our pultrusion process. Our products are highly customizable, allowing you to choose various sizes, shapes, and even colors for your next project. We specialize in fiberglass composites and specialty resins.
If you would like to learn more about our products, services, or customization, get in touch with our team today. We are happy to answer any questions you may have or provide you with an estimate.