Fiberglass Pipes Reinforce Concrete Sewer Structures
by Tencom Ltd.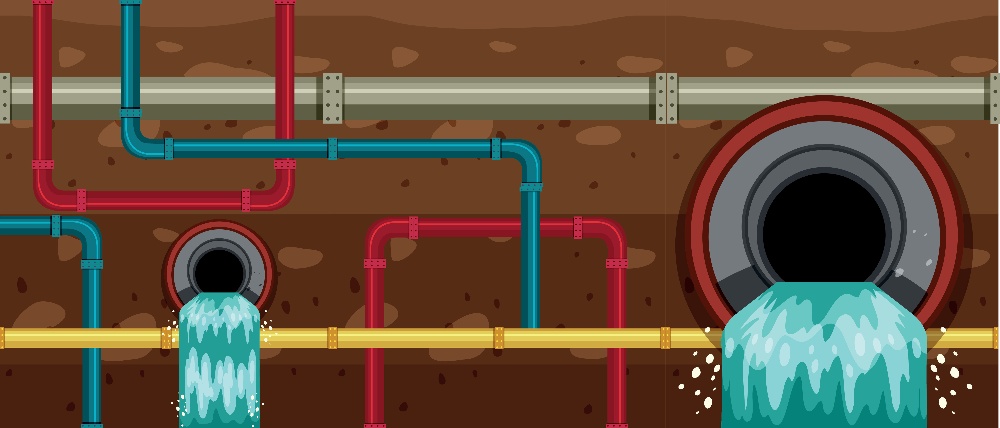 One of the biggest and most up-and-coming industries for Fiber Reinforced Polymer (FRP) composite applications is infrastructure.
Fiberglass pipes, rods, and beams are being used in multiple structures to reinforce concrete.
A prime example comes from San Antonio, TX where the local water company has committed to replacing their concrete sewer pipes with fiberglass pipes.
San Antonio Water Systems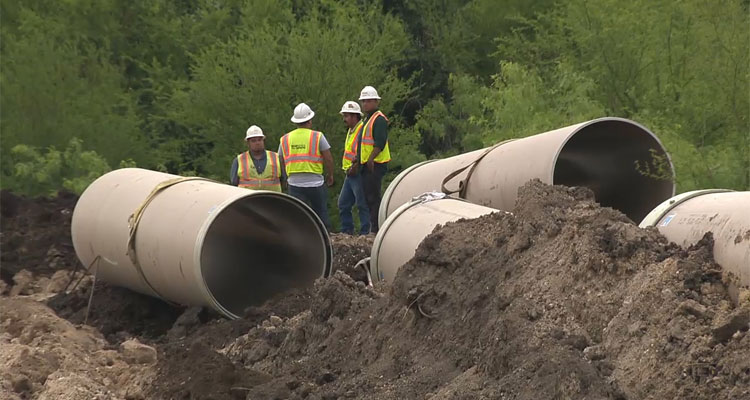 Pic Credit: Composites Manufacturing
In a bid to spend approximately $26.5 million for this reconstruction, the San Antonio Water System (SAWS) will be removing 6 miles of old concrete piping and replacing it with all fiberglass pipes. This state-of-the-art project is unique in that the entire length of pipe will be replaced.
Typically, FRP composite materials are used as structural supports. For instance, concrete structures that are usually reinforced by steel rods can be reinforced with lightweight fiberglass rods instead. However, in this case, the concrete will be eliminated completely to make way for pultruded pipes.
According to the representatives at SAWS, these new fiberglass pipes will need little to no maintenance and will last for up to 50 years. Formed in a pultrusion factory, these pipes will be made of fiberglass rovings, silica sand, and polyester resin.
The rovings will be laced with silica and pulled through the liquid resin bath, resulting in a stronger bond. Once cured, these pipes will be able to withstand just about anything nature can throw at them.
Why the Sudden Change?
A lot of money is involved in this sewer upgrade, and some are left wondering why the decision was made. This particular project is a small portion of the first-ever consent decree between the state of Texas and the Environmental Protection Agency (EPA).
Back in 2013, the EPA and the government of Texas struck a $1.1 billion agreement to upgrade the state's sewage system. This agreement was made due to the state's violations of the Clean Water Act.
It was alleged that sewage spills were seeping into the state's waterway system. To prevent bacteria like E. coli from getting into the state's drinking water, upgrades had to be made. Houston and Corpus Christi are in line to follow after San Antonio completes its upgrades.
Who Does This Help?
San Antonio is a well-known tourist city, and its popular River Walk is the main attraction. Over 14 million people visit the city every year. With hundreds of local shops, restaurants, and hotels, it's important to keep the city clean above and underground.
The new fiberglass pipes will deliver crisp, clean water to over 50,000 homes in the city. San Antonio's Mayor, Ivy Taylor, said that these homes are in areas that have been mostly ignored by city officials in recent years. Upgrades like these will help to promote a healthier sense of community in the city.
Desalination Plants
The fiberglass sewage pipe project is not the only FRP composite project that is underway in San Antonio. SAWS is also on track to build a desalination plant using pipes that are reinforced with fiberglass.
This new plant will be located in South Bexar County, and it will have the capacity to treat approximately 4.4 billion gallons of water every year. In other words, it will be transforming salt water into drinkable freshwater for as many as 100,000 people annually.
Manhole Covers
Another FRP composite project that SAWS has undertaken recently is to replace the old manhole covers with sanitary fiberglass manhole covers. Both the manhole rings and cover castings will be made from fiberglass composites, and they will be completely watertight.
These one-piece monolithic units will be circular cylinder glass-fiber-reinforced polymer/polyester manholes measuring no smaller than 30-inches in diameter. The minimum thickness will be 0.5-inches, and the bottoms will be reinforced with resin fiber.
Manholes that are more than 6-feet deep will require at least two wide stiffening ribs that measure 1-1/2-inches deep and 3-1/2-inches wide. They must also be enclosed with resin fiber for reinforcement purposes.
Vents or pick holes are not permitted, and the hinged area will be secured with 4 stainless steel bolts. To open a fiberglass manhole, crew members can use the recessed pick bar.
The Benefits of Fiberglass
More companies are moving to use fiberglass products for reinforcements and replacement in infrastructure projects for many reasons. The material's resistance to water damage is the main reason behind SAWS' choice to use it.
Because fiberglass is resistant to moisture, it is not susceptible to rust or corrosion. This means that it will last a long time with little to no maintenance. Whereas, other materials such as steel or concrete cannot.
Steel is highly susceptible to rust. Moisture causes corrosion and rust damage over time, and the integrity of steel pipes is brought into question quite frequently. Meanwhile, concrete is also susceptible to corrosion. While it doesn't rust, it can slowly disintegrate which poses many issues down the road.
Fiberglass is also resistant to impact. It is very strong, and it can hold up to natural disasters and inclement weather. Other benefits such as resistance to sun exposure and heat are not really relevant to the particular project mentioned here, but they are something to take into consideration if you are looking to use fiberglass above-ground projects.
Tencom's Fiberglass Products
Here at Tencom, we have over 22 years of experience with pultruded products. Although we work with many different FRP composites, one of our favorites is fiberglass. Our product lineup consists of fiberglass rods, channels, angles, poles, bars, and tubes. Each fiberglass product goes through our pultrusion process and can stand up to rigorous testing.
Our products are lightweight, durable, non-conductive, non-magnetic, stabile, and strong. They are resistant to thermal damage, chemical, corrosion, rust, and impact. They are even sustainable. That's right.
Our pultrusion process requires less heat and produces less waste. That means reduced pollution into the environment. Furthermore, fiberglass products can be recycled and re-formed for use in other applications, making them very eco-friendly.
Want to learn more about our fiberglass products? Get in touch with our experts today.