The Advantages of Fiberglass Bass Boats
by Tencom Ltd.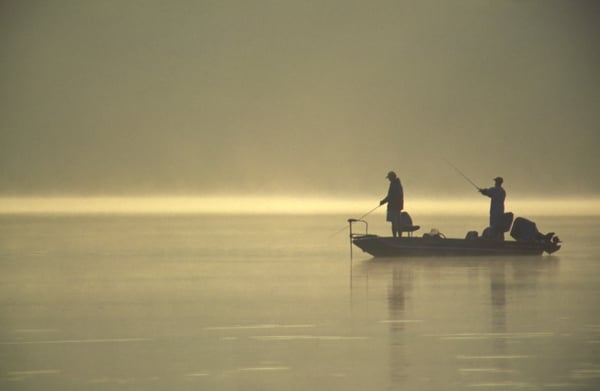 How do you differentiate one type of bass boat from another? Bass boats ─ used by professional and competitive anglers ─ are designed specifically for fishing in lakes, streams and rivers.
Powered by an outboard motor primarily for bass fishing, a bass boat has a high horsepower-to-weight ratio ranging up to 300 HP which improves the performance on the water.
Typically 16 feet to 26 long, bass boats can be made of:
Fiberglass

Aluminum

Wood (mostly phased out)
This post looks at why fiberglass boats are still the go-to type of boat. As boat builders hone, polish and improve on the design and the fine points of their products, the key differentiation for this vessel comes from the materials used and the way they are made (more on this later).
For years, fiberglass boats have been preferred by pro fishermen and tournament anglers. According to discoverboating.com, professional anglers and fishermen prefer the fiberglass boat because of its sterling performance capabilities. Such boats are a favorite in professional boating contests and enjoy a high number of pro angler endorsements.
Also, attributes such as the availability of bass boats in different sizes together with its lightweight and extensive range of power makes it a preferred choice for freshwater fishing. As a result, global sales of bass boats are growing.
Effects of COVID-19 Pandemic
According to fact.mr.com, the global pandemic has presented several challenges for boat manufacturing companies. As the majority of market players are from North America, their businesses have been severely impacted due to the restrictions imposed on manufacturing activities. As a result, the volatile demand of bass boats has severely impacted boat makers.
In 2020, many businesses in the bass boat sector have had to shut down (for some, temporarily), which has affected the global sales and production of bass boats.
In addition, disruptions in the import-export supply chain have also impacted the availability of raw materials. This shortfall in raw materials has reduced the supply of such boats.
However, a rebound is expected in early 2021. The market for such vessels will start to gain momentum and expected to regain its growth trajectory by mid-2021.
On a broader scale, market analysis firm GM Insights projects that recreational engine boats will see a robust growth rate at around 4% till 2024. This growth is due to availability of diversified engine-powered boats such as outboard, inboard, and personal watercrafts (PWCs).
In addition, engine options with various fuel alternatives ─ diesel, petrol and ethanol ─ will continue to support growth till 2024.

Further, such options will result in lower running costs and will further encourage the market to grow.
By 2024, the demand for man-powered boats is projected to rise to US$ 28.5 Billion because of the availability of affordable boating alternatives ideal for water sports and leisure activities such as river rafting, fishing, etc.
Advantages of Fiberglass Boats
Fiberglass is a reinforced plastic material composed of a woven material embedded with glass fibers randomly laid across each other and held together with a binding substance. In order to form a strong, durable composite, fiberglass can be combined with a resin.
There are three types of resins:
1. Polyester: most commonly used

2. Vinyl ester: has good water resistance but is more expensive than polyester

3. Epoxy: expensive but has high performance capabilities and can adhere to many materials
A fiberglass boat is lighter, easier, faster and cheaper to build and maintain and is completely watertight. It can be manufactured quickly and tailored based on customer designs and needs. Besides helping professional fishermen make a living, fiberglass boat-making technology is also environmentally friendly.
The matting used for strength ─ with better resins and woven materials ─ is engineered specifically for fiberglass boats today. Better hull designs ─ the running surface of the boats ─ have also improved with carefully designed strakes and chine contours for both more speed and stability, even at high speeds. Reverse chines on some models push the water away from the boat allowing for a cleaner planning capability.
Specific resins combined with the woven material differs depending on the manufacturer where each (one) has a different process for making their boats.
Today, with automation, bass boats are more standardized by weight and dimension. Flex points have been strengthened with new composite materials like multi-layer fiberglass blocks and other materials that are strong and will not absorb water. Many new boats even have fiberglass transoms.
Typically the fiberglass boat has a smooth silhouette: meaning, there are no sharp edges inside or along the gunnels. The design and manufacture can be customized with colors and gel coats.
If well maintained, a fiberglass boat can look like new even after years of use if sealed with a good fiberglass sealer. Some anglers are not aware that even the best clear coating can be porous and dirt can harm the finish. To remedy this, a good cleaner followed with a sealer can do away oxidation and fading.
Why Fiberglass?
Fiberglass is a flexible and strong material that can be used to build boats in a process called Pultrusion.
Since the 1960s, fiberglass has been used in the manufacture of high performance fishing boats. In the early days, the technology of forming fiberglass came out of the automotive field and was migrated to boat building.
Let's take a look at why fiberglass boats are so lightweight, durable and strong. Fiberglass boats are strong because they are made in a mold, in a process called pultrusion.
Pultrusion
Pultrusion is a manufacturing process for converting reinforced fibers and liquid resin into a fiber-reinforced plastic, also known as fiber-reinforced polymer (FRP).
The pultrusion process allows continuous production of FRP structural shapes in an automated, energy-efficient process by pulling fiberglass rovings through a resin bath or resin impregnator that completely saturates the reinforcements. The resin hardens from the heated steel pultrusion die. The result is a strong, lightweight final product that follows the shape of the mold.
Talk to Us
To find out more about the pultrusion process, contact Tencom