Pultrusion and the Quest for Green Manufacturing
by Tencom Ltd.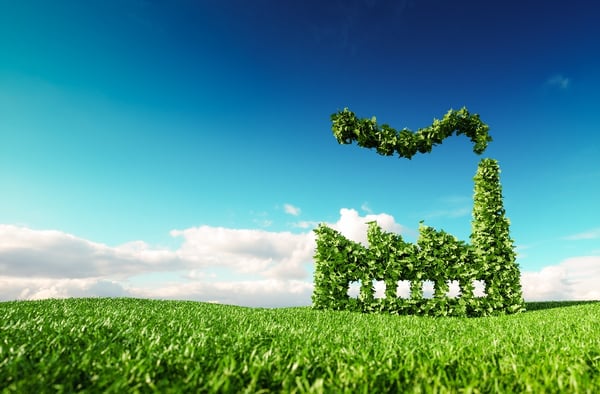 Limiting the environmental impact of materials and manufacturing is a key priority worldwide. Can pultrusion be an eco-friendly manufacturing choice for energy, transportation, and infrastructure? The question is urgent, and the answer is yes.
For many good reasons, the use of pultrusion in composite manufacturing will play a leading role in an environmentally conscientious future. Here, taking a broad look, we see that pultrusion is already a game-changer.
Supporting the Viability of Renewable Energy
Pultrusion—a proven process of manufacturing with composite materials—looks forward to an annual growth rate of about 5% in the coming year, and should reach $110 billion by 2022. One notable factor in that growth is renewable energy.
Pultruded blades and spar caps for wind turbines, for instance, offer reduced weight, longer life cycles, and unprecedented cost efficiency—enhancing the environmental benefits already inherent in wind power.
While composites are stronger than metals, they are lighter. This translates to fuel savings at every stage of transport. With galvanizing unnecessary, pultruded material accounts for relatively low CO2 emissions.
Pultrusion uses less heat than metal manufacturing, significantly reducing the amount of water needed for cooling. The operation is continuous and automated, fast and cost-effective.
Promoting Fuel-Efficient Vehicle Manufacturing
Pultrusion can cost-effectively replace steel with thermoplastics and other composites for car parts.
These may include:
Bumper, door, and roof beams.
Front-end support.
Chassis rails.
Transmission parts.
The automotive industry is trimming its carbon footprint through the adoption of pultruded materials, which result in lighter exterior and interior parts.
Pultruded materials are about 80% lighter than steel and about 30% lighter than aluminum. As light weight translates into lower fuel consumption, cars that integrate pultruded materials thereby cut emissions and electrical power use.
No wonder Tesla is integrating advanced technologies, including composites, to shave weight from auto and truck bodies and battery systems.
With pultrusion, vehicles not only become more efficient and lighter overall. They do so while meeting the industry's exacting safety standards.
Making Tomorrow's Trains
Rail transport, one of the most sustainable ways of moving people and freight, will be a growth priority in coming decades.
Consider the European Union's Shift2Rail initiative, which intends to double rail infrastructure capacity, and increase reliability by fifty percent while halving life-cycle costs—all with an emphasis on innovative technologies.
Accessible restrooms, display screens, improved safety structures…all these improvements add weight to trains. We can reverse this trend—through pultrusion.
As safe, high-performance alternatives to traditional metals, composites will play a key role in rail improvements, the European Pultrusion Technology Association (EPTA) reports.
Pultruded materials are suitable for train ceilings and roofs, HVAC ducts, partitions and seating parts, luggage storage areas, tables, restroom components and doors.
These will increase the green profile of trains, by ensuring:
Lighter trains and related fuel savings.
Lower carbon dioxide emissions per trip.
Lower overall energy costs.
Potential reduction in the size of motors and brakes, allowing for greater payload capacity per trip, and trimming overall transport needs.
Longer life cycles for the train parts and less weight and stress on the tracks.
Enhanced thermal insulation qualities, which composites bring to door and window systems and HVAC ducts.
Custom, smart manufacturing.
Creating Next-Generation Railroad Infrastructure
Pultruded components can meet a wide range of infrastructure needs—a benefit that also relates to the railroad sector.
For rail properties, composite fences, pedestrian bridges, and passenger platforms have been in use for years, and have proven exceptionally valuable.
They excel in structural performance, as compared to steel, wood, or concrete. Moreover, they weigh less and are therefore relatively fuel-efficient to move.
Composite modules with pre-assembled components make installation easier, averting station closures and passenger delays.
Convenience and positive experiences with the train system are important factors in attracting the public to rail travel, and pultrusion plays a role.
Pultruded parts have proven effective for:
Cable conduits and electrical system support posts.
Rail joints.
Third rail protective covering.
Trackside storage for equipment and supplies.
Ballast retention systems.
Lightweight yet large, waterproof tunnel walls.
As international regulations and policies continue pressing the global transportation sector to cut carbon dioxide emissions, the need for strong but light pultruded materials will only continue to rise.
Building Bridges, Reducing Replacement Needs
Pultrusion technology is being applied in both road and trail bridge projects. The bridge structures are often comprised of a polyester or vinyl ester resin reinforced with E-glass.
Designed and fabricated at the factory, they are then assembled and erected at the bridge site.
Rebar corrosion compromises highway bridges after 15 years or so. In contrast, pultruded rebar maintains its integrity over the long haul. Properly designed composite structures will be in use for decades.
As for trail bridges that protect vulnerable river ecosystems, the U.S. Forest Service is embracing the use of fiber-reinforced polymer bridges, produced by pultrusion.
Traditional trail bridges, fashioned from native wood, will last somewhere in the range of 5 to 15 years. This means trail bridges have had to be replaced frequently. This ongoing work results in areas of clear-cutting near the bridge site.
The use of composites solves this problem and also eliminates the environmental impact of placing treated wood or galvanized steel in and around river ecosystems.

Recycling Pultruded Products
The environmental benefits of pultruded materials are proven, but what about the products at the end of their useful life? Can these materials be reused?
Fiber-reinforced polymer is itself recycled through pultrusion, by way of grinding and thermal reclaiming of fibers. Today's methods can produce dense components, nearly double the strength of plastic lumber and on a par with oak planks.
New innovations are unfolding. The American Composites Manufacturers Association (ACMA) has partnered with the Institute for Advanced Composites Manufacturing Innovation (IACMI) to develop an effective, scalable method of composite recycling.
In collaboration with Owens Corning and Ashland, LLC, and support from the University of Tennessee, the coalition devised a process for keeping scrap and used composites out of the landfills.
The topic was introduced to attendees at ACMA's first conference dedicated to the recycling of composites, held in Knoxville, Tennessee in 2018. The process has potential application in wind turbine blades, electronic circuit boards, and other items that have so far resisted recycling.
And now, the technology is going to the next level. In the Netherlands, experts at Van Wees UD and Crossply Technology BV have found that reusing extra thermoplastic trimmings can be done through the creation of a chips-based laminate. The sustainability gains are significant.
Chip-based recycled material can offer half the bending strength of continuous-fiber crossply panels made of similar fiber and resin. This zero-waste manufacturing process is producing new parts that are useful to the construction and auto industries, such as interior panels and door handles.

Pultrusion: On the Right Track, and Moving Forward

Over time, pultruded products are developing a positive performance history and eco-profile. The technology continues to advance. As awareness of the benefits of pultruded products grows, so will the industry.
As a conscientious corporate citizen, Tencom is contributing to the Pultrusion Revolution. We continually strive for improved manufacturing practices that acknowledge our ecological responsibility, while offering vital, environmentally friendly materials to our clientele.
---

Supporting References
Composites Manufacturing Magazine (2017). IACMI and ACMA Formally Announce Robust, Scalable Composite Recycling Project. Available at: http://compositesmanufacturingmagazine.com/2017/09/iacmi-acma-formally-announce-robust-scalable-composite-recycling-project/
Composites Manufacturing Magazine (2018). CAMX Keynote Address Focuses on Design Engineering Tactics. Available at: http://compositesmanufacturingmagazine.com/2018/10/camx-keynote-address-focuses-on-design-engineering-tactics/2/
Composites World (2019). Zero-waste: New Process, Equipment Recycles Prepreg, Tape Offal. Available at: https://www.compositesworld.com/blog/post/zero-waste-new-process-equipment-recycles-prepreg-tape-offal
EPA investigator: John F. Unser (2001). Final Report: Structural Components From Recycled Fiber-Reinforced Composites. EPA Contract Number: 68D01024. Available at: https://cfpub.epa.gov/ncer_abstracts/index.cfm/fuseaction/display.highlight/abstract/1254/report/F
European Pultrusion Technology Association (2018). Industry Briefing: Rail. Available at: https://pultruders.org/pdf_news/1_EPTA rail industry briefing_September 2018.pdf
European Union. Horizon 2020 initiative: Shift2Rail. Available at: https://shift2rail.org/
JS Groenier & S Kosmalski, United States Department of Agriculture (2006). U.S. Forest Service: A Guide to Fiber-Reinforced Polymer Trail Bridges. Available at: https://www.fs.fed.us/t-d/pubs/pdfpubs/pdf06232824/pdf06232824dpi72pt02.pdf
Tencom (2019). Pultrusion Revolution. Available at: https://www.tencom.com/blog/pultrusion-revolution