Cities Invest in FRP Composite Utility Poles
by Tencom Ltd.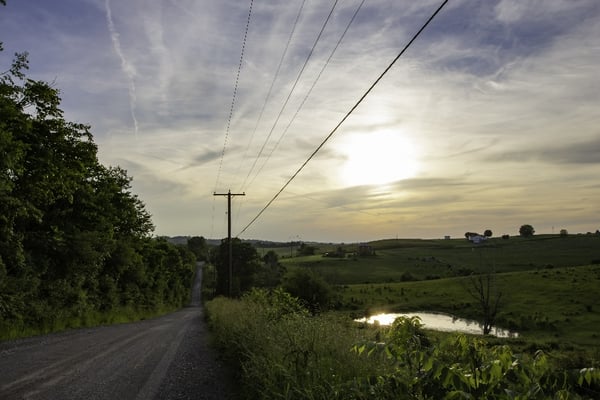 Fiber Reinforced Polymer (FRP) composite profiles can be used in a wide range of applications. One of the most popular applications that we are seeing recently is its use in utility poles and crossarms.
As an alternative to conventional materials like wood, concrete, and steel, FRP composites are lightweight, durable and resistant to just about everything.
In the utility sector, it's becoming more and more commonplace to see FRP composites used in H-Frame and monopole configurations for distribution and transmission purposes.
In this post, we will discuss a few examples where cities have replaced traditional utility poles with FRP composite poles.
1. Refreshing Rochester
After a massive windstorm that caused extensive power outages for over 250,000 Rochester residents in March 2017, the New York State Public Service Commission came to an agreement with the two top local utility providers, Rochester Gas and Electric (RG&E), the New York State Electric and Gas Corporation (NYSEG).
The arrangement – spearheaded by NY Governor Andrew Cuomo – called for local utility companies to revamp their entire electric structure. A total of $3.9 million was meant to be spent on improving the network's resiliency and response time to emergency situations. Some people had been left without power for six days, which was entirely unacceptable.
Approximately $1.25 million was used to replace the old wooden utility poles with new FRP composite poles. Over 900 fiberglass poles were installed throughout the city of Rochester in an attempt to minimize total power outages in the future.
2. Changing Charleston
Another example comes from Charleston, WV. Back in December 2009, a terrible snowstorm brought devastation to the area. Downing over 1,000 utility poles, it was very difficult for service providers to repair the damage in a timely manner. Many of the destroyed poles were in hard-to-reach areas of rough terrain. With such severe winter weather bearing down, it was not only hard to get service vehicles to the sites, it was also very dangerous.
The Appalachian Power Co. (APCO) began using helicopters to fly replacement poles to the sites in disrepair. However, these wooden poles were heavy and not as strong as they would've liked. To remedy this problem, the company started using modular utility poles made of FRP composites. Not only would these poles last longer than the conventional wooden poles, but they also lowered the cost of transportation via helicopter.
3. Modifying Marshfield
With the quality of wood deteriorating over the last four decades or so, the folks over at Sho-ME Power Electric Cooperative in Marshfield, MO made the executive decision to modify 500 miles of H-frame structures.
They were looking for a way to bring electricity from Springfield, MO to Marshfield. Instead of changing out the utility poles, the company switched from wooden crossers to fiberglass crossarms. Resistant to water damage, these replacements were designed to prevent rot and decay.
4. Transforming Tennessee
Another area that was in need of replacement crossarms in the utility sector was Knoxville, TN. The original transmission lines were built back in the 1950s and were in desperate need to repair.
Years of inclement weather and sun exposure had done so much damage that the Knoxville Utilities Board set out on a mission to transform the entire network. Their system uses bundled conductors and requires strong crossarms that are not heavy. Also searching for a material that was stronger than wood and woodpecker-proof, the Board made the decision to use fiberglass crossarms.
5. Revising Riverton
With utility lines over 65 years old, the folks at High Plains Power in Riverton, WY decided to revise their H-frame structures as well. Over 100 miles of transmission lines needed to be revamped, and the company was looking for a fast, easy, and affordable way to complete the project.
With a drastically reduced cost of transportation and labor, fiberglass crossarms won over wood or steel. Able to withstand the weight of the transmission lines and the unpredictable weather in the area, these new FRP composite H-frame structures have not failed yet.
Types of FRP Utility Poles and Products
When it comes to the utility sector, there is a lot more to delivering power to businesses and residences than just wires and poles. There are actually different types of poles for various purposes. These include the following:
Distribution Poles
Power Poles
Telephone Poles
Towers
Traffic Poles
Transmission Poles
Furthermore, tangent crossarms and dead-end assemblies can also be made using FRP composites.
FRP Composite Mechanical Properties
As we mentioned, the benefits of using FRP composites to make utility products are numerous. These products require very little (if any) maintenance, and they can last for 80 years or more. With enhanced durability and flexibility, they can withstand the test of time and anything Mother Nature throws at them. They are even resistant to termites.
Exposure to the elements is not a big deal either. UV rays, strong winds, and even heavy rain or snow aren't enough to damage FRP composite poles or crossarms.
These lightweight products can be pre-cut or drilled for easy assembly on the job site. Shipping costs are also a lot lower.
Tencom Fiberglass Profiles
With over 22 years in the industry, our experts here at Tencom can create customized fiberglass profiles to suit your next project. Using our pultrusion process, we can craft fiberglass poles, bars, tubes, rods, angles, channels, and more.
Our fiberglass poles are solid and lightweight. Used for framing various structures, we can produce electric fence poles, high jump poles, crossbars, electrical supports, and CB antennas. The list doesn't end there.
We can also integrate pigments into the resin mixture during the manufacturing process to color the fiberglass products. The most popular color for the utility sector is yellow. We are often tasked to make fiberglass hotline sticks for electric companies. These are commonly used on high voltage power lines to protect service workers from electrical shocks.
To learn more about our fiberglass profiles, get in touch with our team today.