Composite Ramps Bridge Access Gap
by Tencom Ltd.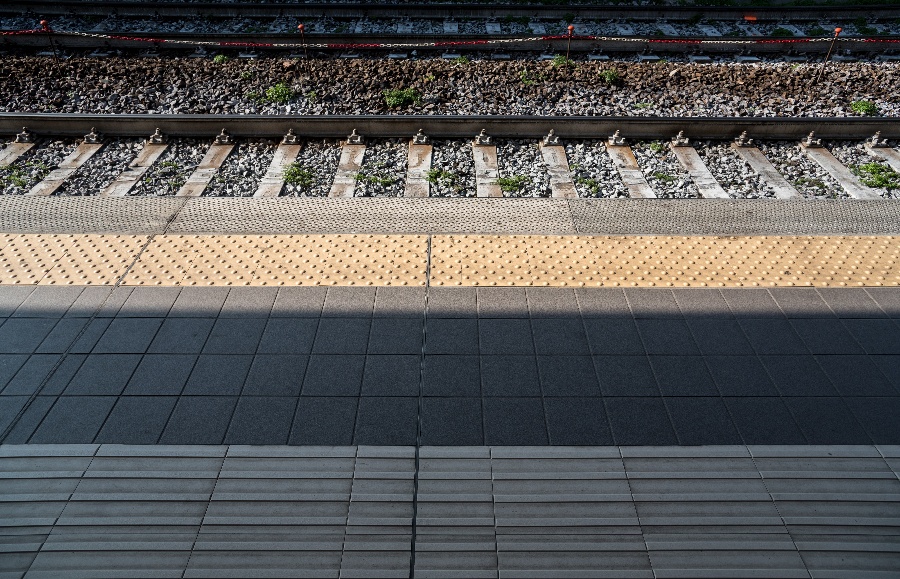 In order for a train to pass the platform safely, there has to be a gap between the train and passenger platform to provide safe clearance for the train.
That is why over the public address system on the train, we sometimes hear the call to "mind the gap". Compared to the dual use passenger/freight platforms, passenger platforms usually have smaller gaps. Generally, gaps vary horizontally by 3 to 10 inches and vertically by 3-in.
Now, composite ramps are able to bridge the gap between the station boarding platform and the rail trolley. As they are relatively lightweight, they can be easily lifted and put in place by operators at designated stops. Composite ramps are three times as strong and about 60% or so lighter than traditional metal ramps.
In the 1990s, ramps for wheelchairs became common with the passing of the Americans with Disabilities Act (ADA), which made it mandatory for facilities to implement design and construction planning for wheelchair ramps.
Now, Fiber Reinforced Polymer (FRP) composites are helping to make public transportation accessible for all. Composite ramps for mass transit are enjoying increasing popularity with county and federal government bodies tasked with rehabilitating the country's aging infrastructure.
Advantages of composite ramps:
Excellent strength to weight ratio
Strong and impact load resistant
Corrosion free
No permanent bending
Weather and water resistant
Ramp Rules
According to ADA specifications, ramps must meet the following specifications:
The slope must be no more than 1:12 for wheelchairs and public use: roughly 1-ft of ramp per 1-in of rise. For example, a ramp with a 20-in rise will need to be 20-ft long. The total height of an individual section, also known as the rise of the ramp can be no more than 30 inches. So, anyone in a wheelchair will not be able to build enough velocity to roll backwards.


Also, ramps cannot exceed 30-ft.


Any part of an accessible route with a slope greater than 1:20 shall be considered a ramp and shall comply with 4.8.


Landings have to be as wide as the ramp, and at least 60 inches in length. If the ramp has to have a turn, then the landing will also need to be 60 inches wide.


From guard to guard, the ramp needs to be at least 36 inches wide. The regulation refers to the width from railing to railing. For typical deck railings with an attached handrail low enough for someone in a wheelchair to grab, the overall width of the ramp needs to be about 40 inches.
City and state bodies ─ tasked with replacing the nation's aging infrastructure ─ are also looking into the advantages of composites as an alternative to traditional wood and metal ramps. Take the case of The Massachusetts Bay Transportation Authority (MBTA) which needed a wheelchair accessible ramps. In the past, switchback ramps are constructed with reinforced concrete.
But labor and material costs, coupled with complex design requirements and spatial constraints made the use of concrete economically prohibitive. Switchback ramps greatly reduce the overall size of a ramp. A FRP profile is lightweight and can be easily installed which eliminates problems with traffic disruption. Extra machinery and manpower to lift and position heavy metal concrete and wood ramps are not needed.
Likewise, for its rail trolley cars, the Memphis Area Transit Authority (MATA) is also deploying new service ramps made of a super strong composite material that's traditionally used to reinforce concrete buildings and bridges. At specified stops, these composite ramps bridge the gap between the rail trolley and station boarding platform area, and can be easily lifted and put into place by trolley operators. According to MATA, the composite ramps are three times stronger and more than 60% lighter.
Undergoing Redesign
In general, aluminum small ramps and bridge plates can weigh up to 34 pounds. Add handrails to a short ramp and the weight gets up to about 87 pounds. Bridge plates are stored at the station, and ramps stay on the trains. Passenger-only platforms use bridge platforms while shared platforms use ramps.
So, when transportation provider Amtrak wanted to replace the ramps and bridge plates in stations, they decided to go the composite way. During the bidding process, Amtrak officials chose a design that weighed 20 pounds and could accommodate two door-opening widths.
To ensure that the ramps and bridge plates meet the appropriate service-load capacity, they have to hold up under 800 pounds of weight and withstand 2,400 pounds of pressure.
Bridge Plates
Some stations have even larger gaps, which can pose significant issues for passengers in wheelchairs. This is where the bridge plate is used to supplement the gap.
Outside of public access, many homeowners may need to include building a ramp to enable access to the house for family members and friends with disabilities. Fortunately, composites can used to create access ramps for the home that are functional, and in compliance with the ADA.
Composite ramps are much more rigid, perform similarly to wood, and require about the same amount of bracing underneath to avoid noticeably flexing underfoot. Resistant to fading, rot and insects, the composite ramp is low maintenance, does not warp, become brittle or lose its strength after prolonged use.
Over time and use, wood decays and can create splinters while metal corrodes. Composites stay true to their design and shape, so the boards don't have to be replaced to allow wheelchairs to roll smoothly and easily. A home can have a wheelchair-accessible ramp when a concrete one would be aesthetically unattractive.
Customizing FRP Composites
Tencom offers customization that do not require the use of special coating or paint. Specialty resins or pigments are incorporated into the product during our pultrusion process. While special paint and chemical coatings do work for some time, that time is limited. Tencom can also pre-cut or pre-drill various FRP composite pieces before they ship out. This will help make the installation and assembly process much easier.
To learn more about our pultrusion process or products for your next project, talk to us. Our experts are happy to answer your questions. Get in touch with us today to learn more.