Take a Spin in a 180-HP Carbon Fiber Motorcycle
by Tencom Ltd.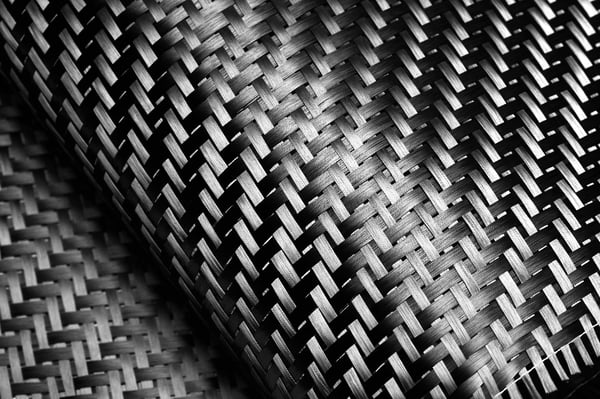 Products made using Fiber Reinforced Polymer (FRP) composites are most commonly seen in the automotive world.
While such carbon fiber materials are widely used across many different sectors such as infrastructure, aerospace, utility, and construction, the automotive industry is the one most people associate with carbon fiber and fiberglass composites.
And, although one may think that FRP composites are mainly used in supercars, this isn't the case anymore. Aston Martin has blown fans away with the creation of their latest motorcycle prototype built out of carbon fiber.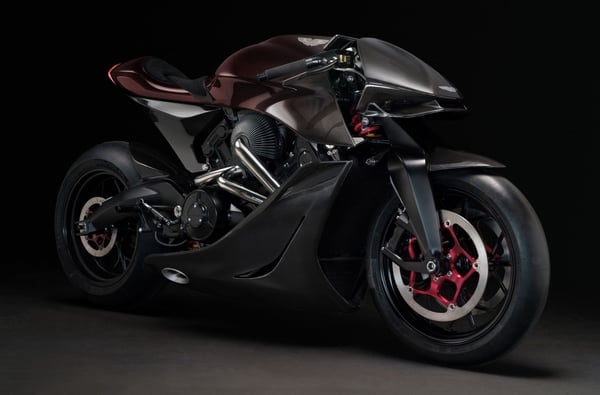 The AMB 001 is made primarily of composite materials
Pic Credit: Aston Martin
The AMB 001
Teaming up with Brough Superior, engineers at Aston Martin have built a new motorcycle out of FRP composite materials.
Known as the AMB 001, this prototype features a carbon fiber fin, fuel tank, and body panels for an aerodynamic, lightweight build. Also included in this bike's makeup is a bit of titanium, though it is primarily made from carbon fiber.
The chassis is constructed out of structural carbon fiber with a rear subframe. Supports made from machined titanium were added to provide a bit of extra stiffness without piling on extra pounds.
Inspired by Aston Martin cars, the carbon fiber fin was a nice touch to tie the motorcycle in with its four-wheeled relatives.
The FRP composite fin runs alongside the tank, which is also built out of FRP composite materials. The path of the fin then flows under the saddle to give the motorcycle an aerodynamic edge.
This particular aspect of the motorcycle was designed by French company Mecano ID that specializes in aerospace-quality carbon fiber applications.
Adding strength and reducing weight, the carbon fiber body panels have been shaped to perfection. This beauty can slice through the air like a hot knife through butter. Its futuristic design makes it look like it was pulled straight out of a video game.
Powered by a turbocharged 997cc V-twin engine, this motorcycle generates 180 horsepower, and it only weighs about 397 pounds (180 kg). Additional features on the AMB 001 include forged aluminum wheels, a billet aluminum front suspension, a final drive chain, a 6-speed transmission, an APTC clutch, and hand-painted body panels.
The AMB 001 motorcycle is currently undergoing rigorous testing at the Pau-Arnos racetrack located in Toulouse, France. Once it has passed through the testing phase, Aston Martin plans to manufacture a short production run of only 100 models.
Each will have a price point of 108,000 euros (approximately $123,596). This hyperbike is expected to be available for purchase by the end of 2020.
FRP Composites in the Automotive Industry
Aston Martin is well known for its luxury vehicles, but they are not the only automaker that incorporates FRP composites into automobiles. American automakers like Chevrolet and Ford have also experimented with carbon fiber.
The first-ever curved pultruded product recently came to life in the form of the rear bumper of a new Chevrolet Corvette Stingray. Meanwhile, the iconic 1967 Ford Mustang Shelby GT500CR was recreated using all carbon fiber composites.
These two American classics getting the carbon fiber treatment is another step in popularizing the usage of FRP composites throughout the auto industry. What was once reserved for supersport cars can now be seen in more affordable muscle cars.
Space, Air, and Sea
FRP composites are not just used in the automotive industry. It's very common to see these materials also being used aerospace transport, aircraft, and even boats.
FRP composite cryogenic tanks are on their way to the International Space Station for performance testing as storage units for propellants. FRP composites airframes used in space-worthy gliders can re-enter Earth's atmosphere without taking on damage, and superyachts with 300-foot FRP composite masts are setting sail on the open seas.
FRP composite applications are becoming more popular as these are increasingly incorporated into mainstream products. These materials work well in all sorts of environments including space.
FRP Composite Resistance
Durable, lightweight, and moldable, FRP composite materials have so many other great qualities about them. They are resistant to just about everything that would have adverse effects on other materials. Here are a few examples:
a. Wood is a traditional building material that has many disadvantages. Without the proper chemical coating and protective treatments, wood is susceptible to damage by water, heat, strong wind, impact, insects, and sun exposure.
b. Conventional metals such as steel are stronger and more resistant to damage than wood, but they still have their disadvantages. Steel is conductive, magnetic, and susceptible to rust caused by moisture damage. FRP composites are not.
As a non-conductive material, FRP composites do not conduct electricity nor do they incur damage from heat. They are far more thermal-resistant than their wood and metal counterparts.
FRP composites are water-resistant, impact-resistant, and they can withstand an onslaught of naturally occurring events such as strong winds, powerful storms, prolonged sun exposure, extreme temperature fluctuations, insects, and even earthquakes.
Taking things a step further, FRP composites are so durable that they require little to no maintenance. With all of these positive attributes, it's no wonder the automotive industry incorporates composites into their products.
Carbon Fiber Helmets
It may tweak your interest to know that you can now purchase a carbon fiber helmet. Not only will this sleek, protective headgear offer your the best protection, but it will also match the Aston Martin AMB 001 carbon fiber motorcycle.
While these helmets are quite pricey, they are more resistant to impact than a conventional plastic helmet. Besides, after dropping over $120,000 on a motorcycle, it makes sense to have a helmet that matches and offers superior protection.
Carbon fiber helmets are lightweight, scratch-resistant, crack-resistant, and extremely durable. Due to their overall lightweight construction, they are also said to be more comfortable for motorcyclists to wear while riding.
Ask Us
Want to learn more about how we make FRP composite products here at Tencom? Get in touch with our experts today.