Refresh A Building Facade With FRP Composites
by Tencom Ltd.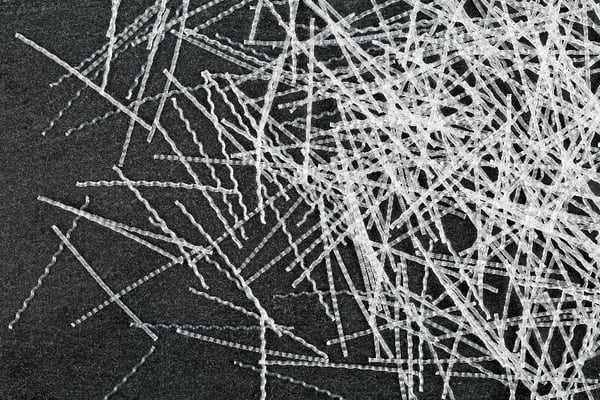 Increasingly, Fiber Reinforced Polymer (FRP) composites are used for a wide range of active applications across many industries.
This means that pultruded products are often only talked about when they serve a specific purpose or function.
For example, ultra-light carbon fiber eBikes or easy to assemble emergency medical shelters. However, sometimes FRP composites can be used for decorative purposes.
Have you ever taken a trip to an area that you haven't been to in a while and seen major changes to some of the buildings? Often, contractors will take on architectural projects that involve changing the exterior appearance of an old or existing building.
The original building doesn't get demolished or rebuilt. It simply gets a refreshed style via a FRP composite facade.
Let's look at two of the most notable building facades around the world that have been made out of pultruded products.
Facade Adjustments
As one of the largest banks in Spain, Banco Popular changed owners in 2017. With this turnover came the need for cosmetic adjustments to the bank's headquarters. After consulting with architectural consultants Arquitectos Ayala and ENAR, a decision was reached to revamp the auditorium.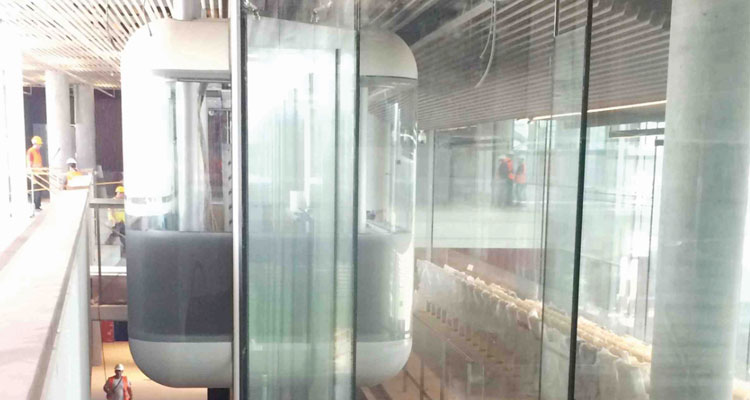 The language interpreters' box – suspended from the auditorium ceiling – in Banco Popular's headquarters in Madrid features glass walls and a glass FRP floor and ceiling.
Pic Credit: Martifer Metallic Constructions
The design featured a glass room that was fully transparent and without visible supports. In order to accomplish this, a new system needed to be developed to keep massive glass panels in place to serve as the outside wall.
Another interesting aspect of the design was the creation of an interpreters' box made entirely of glass and suspended from the ceiling. To cut down on weight and add extra strength, FRP composite materials were chosen to serve as the floor and ceiling of the hanging glass room.
The in-air interpreters' box room is approximately 24 feet in length, 9.8 feet in height, and 8.2 feet in width. Connecting the glass walls to the FRP composite floor and ceiling is a metal substructure.
By using FRP composite materials, the contractors were able to produce the dimensions without added joints. It's also worth noting that this remarkable hanging box is surprisingly lightweight and meets the government's fire codes.
The two FRP composite pieces are both built out of a trio of curved panels weighing 265 lbs each. Each panel is 24 feet in length and 3.6 feet in width. A special vacuum infusion pultrusion process was used to make each piece.
Also, during the pultrusion process, specialty resins were added into the mixture to improve the material's resistance to fire. Urethane acrylate resin is the type the builders ended up going with, and it brought the entire structure up to the appropriate fire/smoke code.
The FRP composite roof and floor were both assembled at Banco Popular headquarters, and the interpreters' box is now hanging at the back of the auditorium for passersby to view. It provides a quiet, well-lit workspace for the company's team of interpreters.
Design Makeover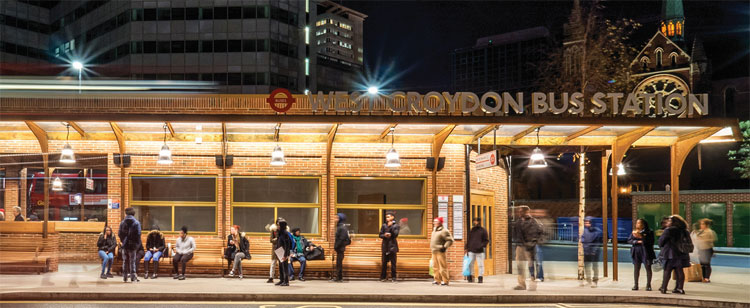 The West Croydon Bus Station in London has a canopy which features translucent composite sandwich panels.
Pic Credit: Kalwall
Another cool FRP composite facade can be found in London at the West Croydon Bus Station. While many Americans aren't too intrigued by public transportation, buses and trains are a big deal all throughout Europe. So, when the Transport of London agency set out to revamp the West Croydon Bus Station, the public were very receptive to the idea.
The goal was to manufacture translucent panels to create a canopy facade. FRP composite materials were used to produce 2 3/4-inch thick panels, which were then assembled into a locking grid mechanism. Fiberglass was used for the top and bottom, and resin was applied along the gridline supports for extra strength.
What makes the fiberglass panels so unique in this case is that they were not simply made in one shape. Each panel is comprised of trapezoids, rectangles, and even triangles.
The various shapes went through the pultrusion process and were then cross-linked with the structural grid for better support. The overall design was so intricate that it won multiple awards including the Royal Institute of British Architects (RIBA) London Award.
Fiberglass was chosen because of its durability, resistance to the elements, and affordability. This canopy facade provides shelter not only from the rain, it also protects guests from hot spots and sun glare.
As an added bonus, bird droppings cannot be seen through the translucent finish. So, the structure is easy on the eyes and doesn't require much cleaning.
Furthermore, fiberglass requires little to no maintenance. Since the West Croydon Bus Station caters to over 23,000 visitors daily, shutting the place down for routine maintenance on the canopy would be counterproductive. Guests can travel to the station's 25 available routes without construction or maintenance delays.
Coming Soon to the United States
As you may have noticed, these two FRP composite facade examples hail from Europe. The question remaining now is whether or not the United States will begin implementing FRP composite facades anytime soon.
The answer to that is an emphatic yes.
Currently, some companies are already using FRP composite materials to create various elements on buildings. A good example of this would be the Apple Park in Cupertino, CA. Featuring the world's largest floating carbon fiber roof, this building has set the bar high.
Another example of using FRP composites for buildings comes in the form of sunshades. An office building in San Francisco recently added FRP composite sunshades to the entire structure. Designed to help keep the overhead cooling costs down, this type of innovation is what we expect to see replicating itself across the nation.
Fiberglass Profiles
If you are considering fiberglass profiles for your next building revamp, our experts here at Tencom can help. We offer customized pultrusions to suit just about any project. We even have a great selection of specialty resins that can be used to enhance the material's resistance to fire and improve its overall strength.
If you would like to learn more about our products or get a free quote for your next project, contact our team today.