Recreating the 1967 Ford Mustang Shelby with Fiberglass
by Tencom Ltd.

Pic Credit: classic-recreations.com
Fiber reinforced polymer (FRP) composites have been making waves in the auto industry recently.
With the introduction of the first-ever curved FRP composite rear bumper on the new Chevrolet Corvette Stingray, things are just getting started. Another American icon is getting the pultrusion treatment.
In an attempt to outshine the Chevy Corvette, the 1967 Ford Mustang Shelby GT500CR is being recreated with FRP composites.
A Collaboration in Carbon Fiber
Spearheaded by a company called Classic Recreations, this creative project to build a fiberglass Mustang Shelby took shape with the help of a few collaborators. A concept of this proportion simply can't be done alone.
The goal was to build a high-performance, modern vehicle with the iconic stylings of classic American vehicles. Choosing the Ford Mustang Shelby GT500 CR was a no-brainer. As one of the most recognizable vehicles in automotive history, we can't think of another model that could grab headlines as quickly as the Mustang Shelby did.
Working with manufacturers to produce the carbon fiber body pieces, the team at Classic Recreations began the process with a completely restored 1967 Mustang body. They made this old model look like new again all the way down to the steel tubing.
Once the restoration process was complete, the team then switched gears and began fitting the bare-bones vehicle with new body panels built from carbon fiber. What started out as just a shell of a former muscle car then began its transformation into a sleek, modern pony.
Using blue light scans to create a 3D digital model of the vehicle, the team used a CNC machine to cut out molds for the pieces. The FRP composite panels were made from aerospace-quality carbon fiber, and they were cured in an autoclave.
This allowed for the fiber weave to be perfectly aligned. There is no room for errors when it comes to building a structurally sound carbon fiber vehicle.
Beauty and a Beast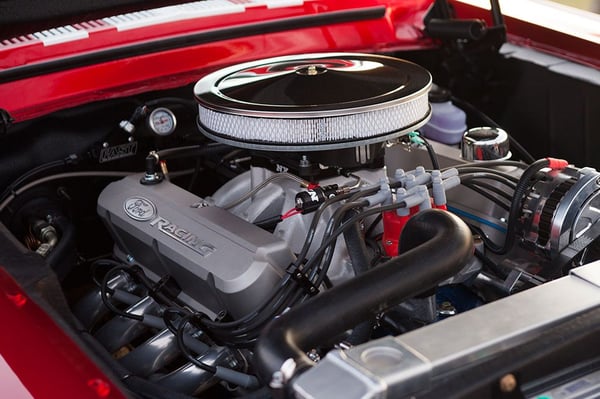 Pic Credit: classic-recreations.com
While the exterior of this groundbreaking rebuild is quite spectacular, the team was still able to keep the power that the Mustang is so well known for. In fact, this particular model can be fitted with a few different powertrains.
The first is a Ford Performance Gen 3 5.0-liter Coyote engine that generates 490 horsepower. The second is a hand-built supercharged motor that pumps out a staggering 900 horsepower.
When Classic Recreations said they were going for high-performance, they meant it. Equipped with a 5-speed manual transmission and a very vocal exhaust system made of stainless steel, this FRP composite reproduction of the 1967 Mustang Shelby is both beauty and beast.
It rides on high-performance tires and forged wheels, and it can be fitted with various options like an automatic transmission, different tires, and a few unique interior modifications.
Now that this dynamic rebuild is finished, the team at Classic Recreations have set their eyes on a new goal. In the near future, they hope to recreate the Shelby Cobra with an FRP composite body as well.
A Look at the Iconic Mustang Shelby
First produced back in 1965, the Mustang Shelby quickly became one of the hottest rides available on the market. It came in three body styles including the fastback, convertible, and hardtop. All of these first-generation models were two-seaters.
By 1967, the Shelby GT500 was released. This high-performance model eventually led to the release of the Shelby Cobra. From the very beginning, the Shelby GT500 was equipped with several fiberglass parts including the side scoops, hood, deck lid, rear taillight panel, quarter panel extension, and even the front end.
At that time, FRP composites were just starting to take off, and Ford used these pieces to make the vehicle lighter without compromising the integrity of the build.
FRP Composites and the Auto Industry
Pultruded products like fiberglass have been used in the auto industry for over 50 years. With the latest advancements in technology and the ability to produce curved FRP composite pieces, things may begin to change rapidly inside vehicle manufacturing plants. If automakers can produce lightweight, sturdy vehicles with more FRP composite parts, this could change the auto industry forever.
Fiberglass body parts have generally only been used in iconic muscle cars and high-performance sports cars. Due to the rigidity and durability of pultruded products, it makes sense that FRP composites would be used in vehicles that need to hold up at high speeds.
Another point that works in favor of the FRP composites in the auto industry is the fact that they are non-conductive. With large, powerful engines pumping under the hoods, high-performance vehicles need parts that can withstand the heat as well as the speed. FRP composites are also resistant to rust, which makes them a dream come true for car enthusiasts.
Looking to the Future
With the curved FRP composite bumper on the new Chevrolet Corvette Stingray and the redesigned Mustang Shelby made out of fiberglass, the future of pultruded products in the auto industry is looking very good. Not only are FRP composite pieces durable, lightweight, and resistant to thermal damage and rust, they are also highly customizable.
Pigments can be infused into the liquid resin process to make all sorts of designs and patterns. For vehicles, this could work well for brand badging and even the iconic hood striping on models like the Ford Mustang.
Choosing Tencom
Here at Tencom, our experts have been in the business of pultrusions for over 22 years. We specialize in fiberglass, and our product lineup is quite expansive.
From rods and tubes to sporting goods and window reinforcements, we can make a wide range of pultruded products to suit your specific needs. Specialty resins can be mixed up to achieve the desired look, and colors can be added to fit in with your brand.
If you would like to learn more about our pultruded products here at Tencom, get in touch with our experts today. You can even request a quote for your upcoming project.