Infrastructure Applications Drive Demand for Pultruded Rods
by Tencom Ltd.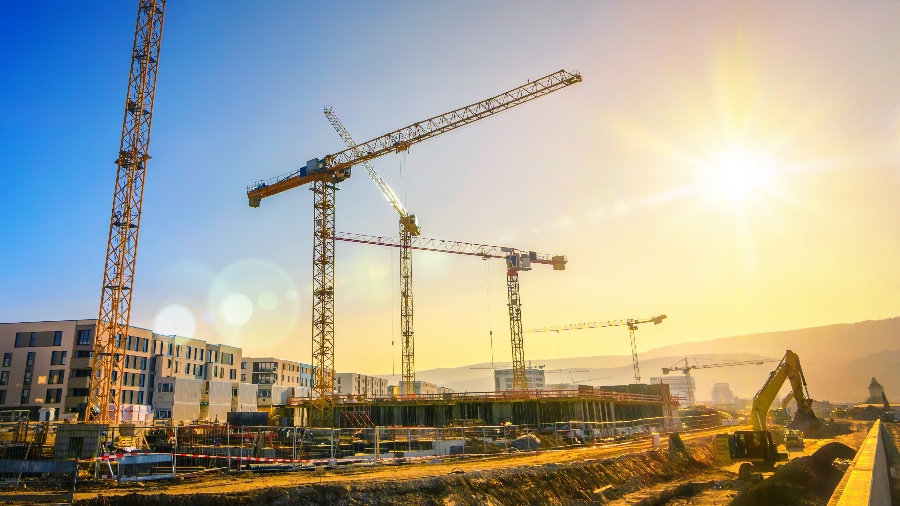 Fiber reinforced polymer (FRP) rods can be made for a wide range of applications in the infrastructure and building and construction industries.
Made up of two elements ─ a fiber and a matrix resin ─ FRP rods are electrically and thermally non-conductive, efficiently resists heat transfer and possess greater tensile strength than steel.
A FRP rod is a rod which is easy to handle and light in weight. The fiber used is usually carbon, aramid, basalt, or glass while the matrix resin is frequently composed of polyester, epoxy, polyurethane, or vinyl ester.
Pultruded Composite products have attributes such as corrosion resistance, light weight, high tensile strength and a long lifespan. This makes such products a natural fit for infrastructure projects. FRP rods are increasingly being promoted as a non-corrosive alternative for steel rebar in concrete reinforcement.
Today, composites are already being used to rehabilitate roads, bridges, water/drainage systems and seawalls, and to build resilient structures. Such rods are starting to see increasing demand as an alternative to the steel rebar.
This post will look at the demand for composite products in infrastructure building and rehabilitation segments.
There are several causes of infrastructure damage. Over a period of time, environmental elements like moisture, salt and chemicals can cause the concrete in bridges and similar structures to spall or crack. When water seeps and soaks the steel rebar, it rusts and the bridge structure eventually weakens.
Market Growth
According to Analysis & Market Consultants Arc Industry, the key growth drivers of the FRP rebar include the worldwide demand for non-corrosive rebars and low cost of FRP rebars across its life cycle. From 2020-2025, the "FRP Rebar Market size is projected to grow to $1.1 billion by 2025, growing at a compound annual growth rate (CAGR) of 12.1%.
Major infrastructure concerns ─ the failure of the steel rebar and early concrete corrosion ─ have encouraged the development of a number of composites-enabled technologies. Repairs can run up the cost to billions. In many locations, corrosion-prone steel rebar reinforced concrete is capped at 25 years.
Projects such as pedestrian bridges are slowly building the case for the pultruded rod. One factor that is winning over critics of the composite product is the need for bridge designs and materials that are corrosion-resistant and to extend long term sustainability. Therefore, the longer sustainability and safety advantages of using composite rebars appeal to many old school towns and precincts.
For example, FRP rods and profiles can used for:
Infrastructure and civil engineering projects ─ for items such as bridge components, highway sound barriers, corrosion-resistant guardrails, antenna housing and railway crossing arms.


Building and construction projects ─ to create items such as doors, roll-up door panels, windows, frame profiles and reinforcements, pipe and electrical supports.
Fiberglass rods can also be made as conductor rods. Such coiled and uncoiled fiberglass rods can be manufactured according to specifications using Tencom's innovative, specially enhanced pultrusion equipment. Applications for this product include fabric frame, cable strength core, guy wire, and fish tape. The turnaround time for a project of this type is about 3 to 4 weeks after any additional tooling is received.
Available only at Tencom, its equipment ─ developed by Tencom's team of pultrusion experts ─ is designed to increase the efficiency and reduce the cost of the pultrusion process.
Materials used for this product include polyester, vinyl ester, epoxy, and polyurethane. Finished lengths for the fiberglass rods range from 100' to 2,000', with available diameters of .080",1/8", 3/16", 1/4", 5/16", and 3/8" (with shorter lengths available from 1/2" to 2"). The resin mix can be modified according to customer needs and to meet expectations for specific product requirements.
Advantages of Fiberglass Rods
Pultruded fiberglass rods are easy to work with and are longer-lasting and safer than many other materials.
Compared to steel, pultruded fiberglass rods are

up to 75% lighter

but pound for pound

stronger than steel. They are thermally and electrically non-conductive and are corrosion-resistant. Over the long-term, fiberglass rods save on the total cost of a project by lowering replacement and maintenance costs as there is no need to replace corroded and oxidized materials due to weather, moisture, and chemical exposure.


Pultruded fiberglass rods ─ unlike wood or timber ─ don't rot, mold or warp and aren't affected by mildew or insect infestation. It's lighter, stronger, rigid and easier to work with. There is no need to coat, preserve or add a film to protect the pultruded rod. Over the long term, such rods have a lower maintenance cost, and a much longer lifecycle.


Pultruded rods are lightweight, non-conductive, and highly corrosion-resistant. Unlike metal or aluminum, they don't interfere with radio waves and EMI/RFI transmissions, are impact-resistant, and offer higher dimensional stability. These attributes make it an optimal solution for many types of radio, radar, and antenna applications.
For example, steel rebar used in infrastructure such as bridges is prone to corrosion which can rack up hefty maintenance bills over the lifespan of a structure. Across the country, over 54,000 out of 615,000 bridges are considered structurally deficient in the United States.
Fiberglass rods can maintain their micro-structural integrity and mechanical properties for over 15 years with very little maintenance. Over the course of use, costs are reduced while the durability and long-term performance of a structure is extended and enhanced.
Also, pultruded fiberglass rods can be fabricated with simple tools. There's no need for welders. They're easy to handle and transport, making it easy for designers, builders, and manufacturers to respond nimbly to fast-changing market demands.
Pultruded fiberglass rods are also relatively easy to install and don't require costly special equipment, making it particularly a suitable material for specific parts that need to be strong and lightweight in other verticals such as motor vehicles, railway, and aerospace.
Also, the long service life and low maintenance requirements of pultruded fiberglass rods translate into low energy consumption through a product's lifecycle ─ helping to meet sustainability goals that are of high priority in many industries.
Final Thoughts
The use of pultruded rods allows for rapid, cost-effective, and high-volume manufacturing of structural components that are strong, durable, and lightweight while keeping maintenance costs low.
Since pultruded products are flexible and highly adaptable and can be used to meet the changing needs of many industries and applications. To learn how Tencom's expertise and customization options can help you accomplish your goals, contact us.