FRP Composite Cantilever System Replaces Old Walkways in NY
by Tencom Ltd.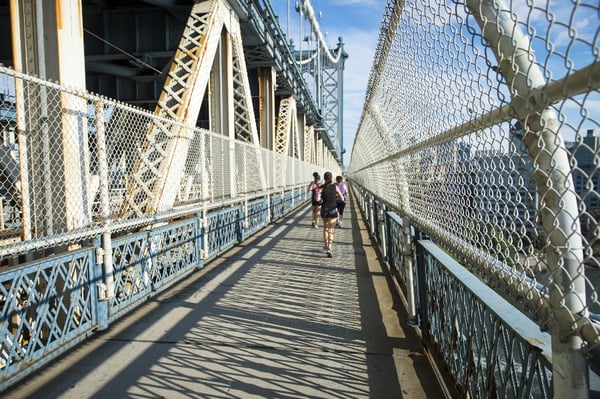 New York has been a busy hub for a very long time, and it has grown exponentially into a thriving state with numerous big cities.
With so many residents and tourists perusing the cities throughout the year, it's no surprise that there is a lot of traffic. Because of this, public transportation and pedestrian walkways have been put in place to help people get from one place to another easily.
However, those old walkways have been up for a long time, and the state officials thought it would be a good idea to replace them.
Out with the Old
Albany, NY was home to numerous aging walkways that were beginning to become a threat to pedestrians. In 2017, the condition of one of the walkways deteriorated so much that the State of New York Office of General Services (OGS) was forced to close them entirely until repairs could be made.
It wasn't a simple fix. The antiquated walkways needed a lot more than just a few panel replacements. After a thorough inspection, the team decided that most of the bridge components needed to be replaced, and the sidewalk also needed to be enlarged.
With almost 700 state employees walking across this pedway every day to get to and from the parking area and offices, the OGS made the executive decision to start renovations immediately.
The first thought was to use conventional concrete to rebuild the bridge components and the sidewalk. However, this traditional material proved to be too heavy for long-lasting use. The next idea was to use lightweight concrete, but it was also deemed far too heavy.
Finally, the team discovered a fiberglass cantilever sidewalk system that functions as an FRP composite pathway. Weighing in at 80% less than conventional reinforced concrete, the cantilever system proved to be the only option that could withstand foot traffic without going over the total load capacity.
Another benefit to this FRP composite pathway is that it came pre-fabricated, allowing for fast installation and reduced costs. Furthermore, the material's resistance to moisture, chemicals, and corrosion was the extra selling point. With little to no necessary maintenance, this new walkway could be used for generations.
The old walkway featured a 4-inch deep sidewalk made of concrete. The problem was that it took just six years for the deck pans to rust. Meanwhile, the concrete was beginning to deteriorate to the point of jeopardizing the entire structure. That is a very short time frame for such an important (and expensive) piece of infrastructure to become unsafe to use.
The new FRP composite cantilever system not only expanded the length of the sidewalk, but it also made the structure more stable as a whole.
The finished product resulted in a 75 psf uniform live load with a mid-span deflection limit of L/400. The walkway now consists of 36 pre-fabricated FRP composite panels that were transported to the location. Steel beams were used to support the new sidewalk, which was connected by bolting clips into the steel plates. The entire assembly process only took four days to complete.
Now, the sidewalk measures 763 feet in length and 64 inches in width. The thickness of the deck is 3-7/8-inch with a 1/8-inch wear surface. For a non-slip grip, a polymer aggregate overlay was also applied for the safety of pedestrians.
Keeping Pedestrians Safe
Albany, NY isn't the only city to take precautions with their footbridges. Officials from the Mid State Trail Association in Loysburg, PA also saw the need to replace one of the bridges on the state's longest hiking trail. Stretching across the Yellow Creek, the original bridge was in poor condition and had become dangerous for hikers to travel on.
To remedy this issue, the Mid State Trail Association replaced the charming old wooden bridge with a new fiberglass bridge. Spanning 85 feet in length and 4 feet in width, this new bridge was created to withstand the test of time and allow nature lovers to enjoy the paths for years to come.
Just like the cantilever system in Albany, this bridge was also pre-fabricated. Consisting of fiberglass rods acting as structural supports, it was quick and easy to install. The components were delivered to the site, and the installation process didn't take long at all. In fact, the workers reported that they had completed assembling the entire bridge in as little as three hours.
The result is now a water- and corrosion-resistant structure that won't need much maintenance. It is also expected to last for over 80 years with little to no repairs necessary.
Fiberglass in Infrastructure
Using fiberglass rods to create a stable and durable support system for infrastructure has endless benefits. Not only are these pultruded products lightweight and easy to assemble, but they are also resistant to just about every damaging factor you can think of.
Corrosion or rust caused by moisture is not a concern with fiberglass rods. Weakening due to sun exposure is also not important. FRP composite materials can withstand just about anything nature throws at them. They are fire-resistant, impact-resistant, non-conductive, and they are not susceptible to rot or decay. Nothing can shake FRP composites down.
Fiberglass Profiles from Tencom
With over 22 years of experience in the industry, our experts here at Tencom are well-versed in the art of pultrusion. We have our own manufacturing process that involves materials such as epoxy, polyester, urethane, and vinyl ester.
First, we take fiber rovings and pull them through a liquid resin bath. The product then goes into a cast to be cured into a particular shape. Once the curing period has finished, the pultruded product will be complete.
From here, we can pre-cut or drill holes for easy assembly. Our products take anywhere from 3 to 4 weeks to be processed, but customized products can take up to 12 weeks. To get started on your next project with fiberglass rods, get in touch with our experts today.