Composite Poles Outlast Wood
by Tencom Ltd.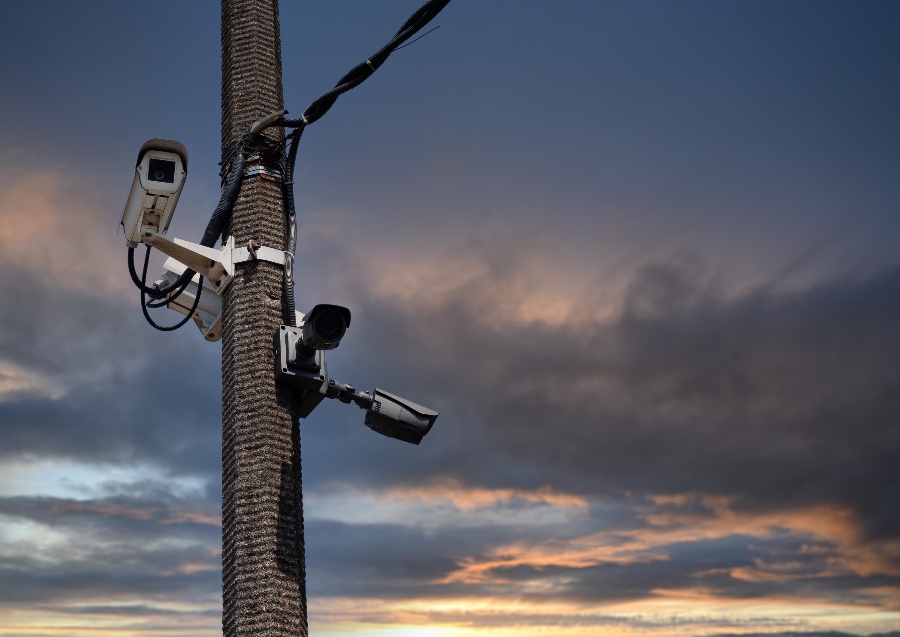 Think of the utility pole and most often, the wooden pole comes to mind. Whenever severe weather happens, an age old problem surfaces where the power supply to that part of the country is hit by outages and disruption of service.
Consumers expect to see solutions put in place so that the massive grid outages for extended periods of time can be prevented.
Moving Past Power Outages
Wooden poles have long been used to support electrical utility. However, such poles are susceptible to damage from environmental factors ─ wear and tear, decay, wind damage and severe weather events. Although wooden poles can have a life expectancy of more than 30 years, many may have been around for 50 years or more. And, as is often the case, these poles are only replaced when they are damaged or when they are destroyed in disasters, severe weather or natural wear and tear.
Wood decomposes over time, so it must be coated with chemicals before being used in the construction of utility structures. These chemical preservatives are applied to the wood to make it resistant to corrosion. The major disadvantage to this is that these chemical coatings are toxic to the environment. Once the wood pole is disposed of in a landfill, the toxic chemicals used in the coating will seep into the ground. The preservatives of today have been altered to provide less toxic conditions but their use also shorten the life of the wood from previous standards.
Although this has been ongoing for decades, the issue of pole replacement and power failure for days, even weeks came to the fore about ten years ago. In 2011, Southern California saw strong winds which swept across counties and knocked over power lines causing major power outages and started a fire in another. In 2012, Hurricane Sandy unleashed devastating floods and winds, knocking down power and transmission lines across the East Coast of the United States leaving more than 8 million customers without power. This brought complaints from consumers. Since that time, State Public Utilities Commissions (PUCs) have been trying to find alternatives to the wooden pole.
PUCs as well as consumers are long past waiting for poles to come down and for grid failure to happen before taking action. The PUCs want to see grid failure become a thing of the past. Enter the composite option as a solid replacement for the wooden pole and even cross arms. Composites ─ which are corrosion resistant, have low conductivity, are light in weight, with a longer life span than wood ─ boast significant advantages over the wooden pole.
A few years later, in 2017, after a massive windstorm, about 170,000 Rochester, New York residents had to live in the pitch dark, without power. The New York State Public Service Commission and local utility service providers agreed to replace wooden utility poles with Fiber Reinforced Polymer (FRP) composite poles. With a budget of $1.25 million, the initial costs were less than the maintenance cost of wood poles.
In any case, inclement weather can cause wooden power poles to fall, which not only knocks out the electricity, it is also dangerous to drivers and pedestrians. This does not happen with FRP poles. Unlike wood, sun exposure, moisture, chemicals, and even insects can cause natural wood products to rot, warp, and decay over time, FRP poles are more reliable and durable.
Composite poles are fire resistant. They spell attractive advantages to utilities companies especially those with service areas containing forests, brush or a mix of both. Composite poles can be strengthened and customized to match its use ─ which means that such poles can be manufactured specifically for the application. And, the best part is that composite poles do not need chemical treatments before being put to use.
Another advantage is that it can withstand animal and insect damage. For example, woodpeckers can make holes (softball sized) as they make nests, hunt for insects and hide nuts.
Meanwhile, the West Virginia University's Wadsworth Department of Civil and Environmental Engineering conducted a study looking into the benefits of Fiber Reinforced Polymer (FRP) composite utility poles. The study found that "FRP poles will have higher strength and stiffness-to-weight ratios, better impact energy absorption and durability, improved design and manufacturing flexibility, higher energy efficiency in production, and safer environmental characteristics and will be more economical than the existing steel or concrete poles, or even with respect to the existing FRP poles."
According to the American Iron and Steel Institute, composite utility poles offer the longest life, lowest maintenance, lightest weight and ability to drill for easy installation. Currently, there are about 185 million utility distribution poles in North America. On a yearly basis, about 2.5 million wood poles are being replaced because of age, damage and decay.
Strategic Advantages
Currently, such poles are for used for satellite and radio antennas, and siting wireless and cellular dishes. Since composite utility poles are hollow, many applications that require utilities to run a copper ground wire up a pole. The lightweight design of composite poles make transportation and installation much easier especially in areas such as crowded backyards and remote areas. Counties in hurricane prone areas are exploring the use of composites to ensure a quicker response method for hurricane-damaged distribution circuits.
Composite products can be customized and made in different colors so that they can blend in with the terrain: for example, they can be put between wooden poles in a transmission line so as to limit cascading failures most often seen in ice storms. Even the steel pole that is used to support power and communication lines is being replaced.
In general, the utility sector is increasing its use of FRP composites each year. According to Electric Energy Online, "The Institute of Electrical and Electronics Engineers (IEEE), which publishes the National Electrical Safety Code, now officially recognizes FRP poles and cross arms in its utility industry codes. The American Society of Civil Engineers (ASCE) 111 Design Guide, Reliability Based Design of Utility Structures, now includes considerations for composite pole structures; and an ASCE committee is working on a revised Manual of Practice for FRP Utility Structures."
Meanwhile, market analyst Lucintel finds that although composite poles, at this time, make up less than 1% of the overall utility pole market, its share is expected to grow at an annual compound growth rate (CAGR) of 5.7% to reach $318 million in 2024, up from $228 million in 2018.
Currently, power transmission and distribution makes up about 71% of the global composite pole market. However, at 23%, lighting is projected to have a relatively higher growth rate, fueled by the replacement of traditional materials. In its 2020 report, Lucintel projected that despite an economic downturn in 2020 due to the global pandemic, the global utility pole market is expected to see an uptick in demand in 2021 to reach an estimated $53.3 billion by 2025 with a CAGR (from 2020 to 2025) of 3% to 5%.
If you have your own idea for a fiberglass profile, we can make it. Our experts have over 50 years of experience with FRPs. From unique designs to customized colors and patterns, we can make exactly what you need for your next project.
Get in touch with our team today to learn more.