Top 7 Books for Manufacturing Design Engineers in 2023
by Tencom Ltd.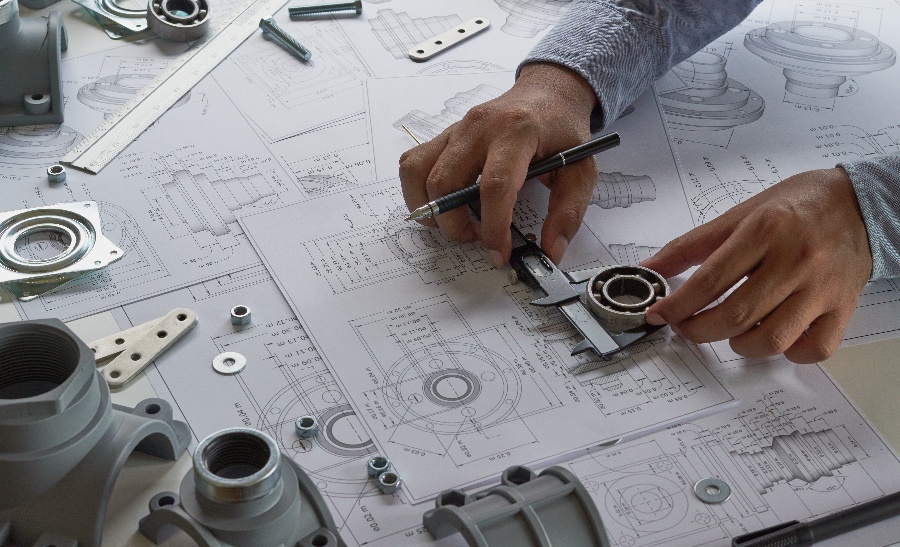 The manufacturing design engineering field is constantly evolving, with new technologies, methodologies, and approaches emerging to enhance product development and design. Staying up-to-date with the latest industry knowledge and practices is essential for design engineers looking to create innovative, functional, and sustainable products.
In this article, we have curated a list of the top 7 books in 2023 that every manufacturing design engineer should read. These books cover a diverse range of topics, from product design principles and continuous discovery habits to cradle-to-cradle design frameworks and innovative problem-solving techniques.
By delving into these resources, manufacturing design engineers can elevate their skills and contribute to the development of groundbreaking products that positively impact both the market and the environment.

101 Things I Learned® in Product Design School
Manufacturing design engineers can gain valuable insights from the book "101 Things I Learned® in Product Design School," written by experienced professional designers and instructors. One of the key takeaways from the book is that product design is a multifaceted discipline that requires skills and understandings in various areas including art, engineering, craft, psychology, history, cultural anthropology, physics, ergonomics, materials technology, marketing, and manufacturing.
The book provides an accessible entry point into the field of product design by presenting 101 brief, illustrated lessons that explore fundamental principles and practical considerations in design. For example, the book emphasizes the importance of designing products in relation to the human body, highlighting the role of ergonomics in creating products that are comfortable and user-friendly. It also explains that every product is part of a larger system, encouraging design engineers to consider how individual components interact with each other and with the broader environment.
Additionally, the book distinguishes between being clever and being gimmicky in design, emphasizing the importance of creating designs that are both innovative and functional. It explores universal notions of beauty across cultures, suggesting that aesthetic considerations play a role in product acceptance and user satisfaction.
Lastly, the book discusses how storytelling and argument can be used effectively to persuade stakeholders and communicate the value of a design. By considering these lessons, manufacturing design engineers can enhance their understanding of product design principles and apply them to their own work to create products that are both aesthetically pleasing and functionally effective​.

The Product Innovator's Handbook
Manufacturing design engineers can benefit immensely from the insights offered in "The Product Innovator's Handbook," written by Gethin Roberts. The book delves into the nuances of why some physical products succeed in the market while others fail, exploring factors that go beyond the quality of the initial idea.
Manufacturing design engineers will learn the importance of determining whether their physical product effectively addresses a specific problem, as well as how to identify the right target audience for the product. Additionally, the book provides guidance on how to secure intellectual property protection and funding for product development, both of which are critical for successfully bringing a new product to market​.
Furthermore, "The Product Innovator's Handbook" explores various business models and manufacturing options, providing manufacturing design engineers with an understanding of the different strategies they can employ in the development and production of their products. The book also explains the intricacies of the product design process, ensuring that engineers are well-equipped to navigate the complexities of product development.
The insights offered in the book are valuable for design engineers looking to enhance the lives of consumers, make a meaningful impact in the market, and ultimately become professional product innovators. By the end of the book, manufacturing design engineers will have gained a comprehensive understanding of the key factors that contribute to the success or failure of physical products in the market​.

Cradle to Cradle: Remaking the Way We Make Things
The book "Cradle to Cradle: Remaking the Way We Make Things" by architect William McDonough and chemist Michael Braungart presents an innovative approach to design and manufacturing that integrates science and design to provide enduring societal benefits, including the use of safe materials, water, and energy in circular economies while eliminating the concept of waste. At its core, the book advocates for a design framework characterized by three principles derived from nature:
Everything is a resource for something else: In nature, the "waste" of one system becomes food for another. In a similar vein, manufacturing design engineers can learn to design products in such a way that they can be disassembled and safely returned to the soil as biological nutrients, or re-utilized as high-quality materials for new products as technical nutrients without contamination.
Use clean and renewable energy: Living organisms thrive on the energy of current solar income. Manufacturing design engineers can embrace the use of clean and renewable energy sources such as solar, wind, geothermal, and gravitational energy, as well as other emerging energy systems. By capitalizing on these abundant resources, engineers can support both human and environmental health while reducing reliance on nonrenewable energy sources.
Celebrate diversity: The natural world exhibits an astonishing diversity of life, with geology, hydrology, photosynthesis, and nutrient cycling adapted to local conditions. Similarly, manufacturing design engineers can design products that respond to the unique challenges and opportunities offered by each locale, resulting in solutions that fit elegantly and effectively into their specific contexts.
Ultimately, "Cradle to Cradle" reframes design as a positive, regenerative force that creates footprints to delight in rather than lament. This paradigm shift reveals opportunities for improving quality, increasing value, and spurring innovation in manufacturing. It encourages engineers to continuously seek improvement in their designs, to use resources more effectively, and to share discoveries with others in pursuit of a more sustainable and circular economy​.

Continuous Discovery Habits: Discover Products that Create Customer Value and Business Value
In the book "Continuous Discovery Habits," author Teresa Torres addresses the common misconception between product discovery and product delivery. While product discovery involves deciding what to build, product delivery encompasses the actual process of building the product. Traditional product discovery often employs a project management approach, in which users are interviewed at the beginning of the process, the product is subsequently built, and then users are asked to use and evaluate the built product.
However, this traditional approach has a critical limitation—it fails to take into account users' insights and feedback during the building process, which can lead to missed opportunities for improvement and adaptation. To address this limitation, the book introduces the concept of continuous discovery—a process that emphasizes ongoing engagement with users and incorporates their feedback throughout the product development lifecycle.
Continuous discovery involves frequent touchpoints with customers, during which small research activities are conducted by the team building the product. These activities are carried out in pursuit of a desired outcome, and the goal is to infuse daily decision-making with customer insights, thereby aligning product development with customer needs and values.
For manufacturing design engineers, continuous discovery offers valuable lessons on how to iterate on product designs based on customer feedback, prioritize opportunities rather than just solutions, and test underlying assumptions to achieve desired outcomes.
Emphasizing outcomes over outputs, continuous discovery encourages engineers to shift from an output mindset—focused on the features of a product—to an outcome mindset that prioritizes the value created for users and the business. This shift can lead to more effective and customer-centric product designs in the manufacturing industry​.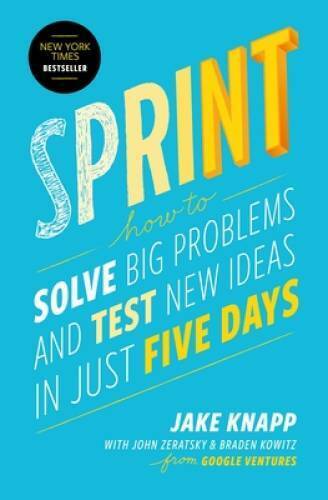 Sprint: How to Solve Big Problems and Test New Ideas in Just Five Days
Manufacturing design engineers can benefit from the principles and methods outlined in the book "Sprint: How to Solve Big Problems and Test New Ideas in Just Five Days" by Jake Knapp. The book introduces the concept of a design sprint, an accelerated approach to innovation and problem-solving that is designed to significantly reduce the risk of launching a new product or innovation.
The sprint process is a five-day workshop that allows teams to define a target, find a solution, create and test a prototype, all within a short timeframe. A key advantage of the sprint process is its ability to fast-forward into the future to determine if an idea would work and identify the risks and challenges that need to be addressed for successful implementation. The process emphasizes focused and efficient work, as the five-day timeframe is long enough to develop good solutions, yet short enough to maintain focus and momentum.
Manufacturing design engineers can begin by choosing an important challenge, such as a high-stakes project or an urgent problem, and assembling a diverse team with critical skills in finance, marketing, customer relations, technology, logistics, and design. The team must also include one or two official decision-makers, known as "Deciders," as well as a separate Facilitator.
During the five-day sprint, the team will map out the challenge, choose a target, sketch out ideas, select the best solution, and prototype it before testing it with target customers. The process is structured to follow a step-by-step guide with specific tasks and actions for each day, which are executed with the help of a facilitator. The sprint process is practical for manufacturing design engineers as it allows them to test new ideas and validate solutions in a short period, thereby reducing uncertainties and risks associated with product development and design​.
Start at the End: How to Build Products That Create Change
Manufacturing design engineers can benefit greatly from the insights and methodologies presented in the book "Start at the End: How to Build Products That Create Change" by Matt Wallaert. The book serves as a guide to reverse engineering products, placing an emphasis on the desired outcome or result that the product is intended to achieve.
Wallaert leverages principles of behavioral psychology to develop customer-centric design tactics, which are integral to the success of any product. These tactics are focused on altering consumer behavior, a crucial aspect of the product design process.
The book further explains the importance of approaching product design with mindfulness and intentionality. Manufacturing design engineers can apply the techniques outlined in the book to design products that effectively drive the behavioral change they are intended to create.
By starting with the end goal in mind, engineers can make informed decisions throughout the design process, ensuring that the product aligns with its intended purpose and resonates with its target audience. As a result, "Start at the End" offers a unique and valuable perspective for engineers looking to create products that have a meaningful impact and drive positive change​.

Product Design and Development Handbook: An Innovative, Entrepreneurial, and Structured Approach for Engineering Capstone and Industry Projects
Manufacturing design engineers can greatly benefit from the insights provided in the "Product Design and Development Handbook: An Innovative, Entrepreneurial, and Structured Approach for Engineering Capstone and Industry Projects" by Steven W Trimble and Abdelrahman N Shuaib. The handbook is designed to enable engineering students and practicing engineers to successfully execute product design and development projects.
A key feature of the text is the introduction of the Phased Product Development (PPD) process, which encompasses two crucial elements: mini milestones that keep project design and development teams on schedule and within budget, and phase exit checklists that ensure teams demonstrate evidence of meeting both Accreditation Board for Engineering and Technology (ABET) and entrepreneurial mindset (EM) outcomes.
The handbook is divided into 44 modules, each of which includes pre- and post-class session assignments that break down the development process into achievable mini-milestones. An example project, the design and development of a travel iron, is provided to help teams understand how the information in the text can be applied to real-world projects.
In addition to addressing design aspects, the handbook also focuses on the critical tasks of manufacturing, developing, and validating engineering prototypes. It underscores the integration of product engineering into the overall commercialization process and emphasizes the attributes of "thinking like an engineer" while meeting sponsor expectations.
These concepts are reinforced with industry examples and are explained within the context of the Goldsmith Commercialization Model. Importantly, the text incorporates the entrepreneurial mindset into each phase of product development, including Arizona State University (ASU) Fulton Schools of Engineering (FSE) EM@FSE 2.0 indicators in the phase exit checklists. While the handbook uses mechanical engineering projects as a baseline, it is broadly applicable to single discipline, multi-discipline, and trans-discipline team-based product design and development projects across all engineering disciplines​.
The seven books highlighted in this article provide invaluable insights, methodologies, and approaches that manufacturing design engineers can leverage to enhance their product development and design capabilities. By embracing these resources, engineers can make informed decisions, create customer-centric products, and drive positive change in the manufacturing industry.
At Tencom, we understand the importance of staying at the forefront of innovation, and we are committed to supporting engineers in their quest for continuous improvement. Our team of experienced professionals can help you implement the learnings from these books into your projects, providing tailored guidance and cutting-edge solutions that align with your unique needs and goals.
Take the next step in elevating your engineering skills and product designs by partnering with Tencom. Together, we can transform your ideas into impactful, market-ready products that create lasting value for your customers and the environment. Contact us today to discuss your project needs and discover how Tencom can help you achieve engineering excellence.