All Decked Out with Composites
by Tencom Ltd.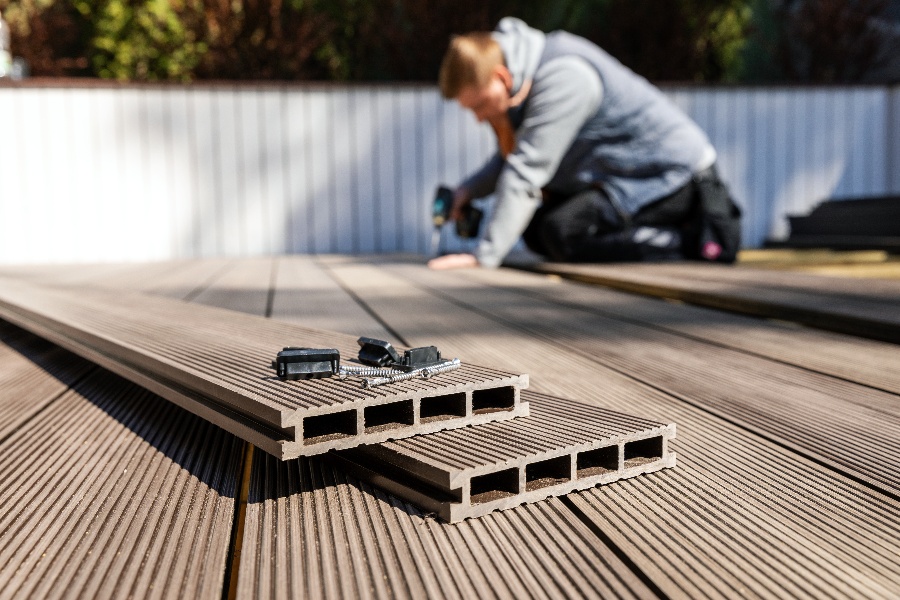 Traditional wood decks require many hours of tender loving care every year. Hands up all home owners who have had to pressure wash, stain, repaint, or replace the deck of your house? If you find any of these chores bothersome, you are not alone.
Pressure washing, scrubbing, staining are all vital to keep a wood deck in good condition. Wood decks trap moisture, will crack, splinter and rot if not treated with stain or painted regularly.
Of course, you can use deck protecting agents to keep your deck in good shape but typically, these have to be reapplied every year or every other year depending on where you live. With a wood deck, you will need to spend several days every year on a wood treatment regimen.
Pressure-treated wood decks have chemical preservatives to make it resistant to insects and moisture. But, pressure-treated decks can still hold moisture, shrink unevenly and twists when it dries. This makes the deck lose its attractiveness quickly.
Are You Prepared for Yearly Deck Maintenance?
Wood decks need many hours of regular maintenance every year. Scrubbing and staining a wood deck is vital. If not preserved with stain or paint on a regular basis, traditional wood decks absorb moisture, warp, twist, crack and splinter. So, you will need to spend several days going through a "protect your deck" regimen.
Depending on the size of your deck, you may need to:
spend 1 or 2 days sanding the surface to remove splinters and scratches
1 day to power-wash/dry
1 day to apply a fresh coat of stain
1 more day to apply a sealer to protect it from the elements, insect damage, and traffic use.
Consider Exposure to the Elements
Traditional wood decking is susceptible to damage and rot from moisture, weather, temperature fluctuations (freeze, thaw, snow and ice loads), insects, and normal wear and tear. An untreated deck will deteriorate.
To prevent this, many builders apply a deck preservative like a sealer, stain or paint designed specifically for decking. Each product gives a deck a different look and feel, but generally, they all function in the same way ─ protecting wood from the effects of moisture, fungus, and insect damage.
Traditional wood decks can last for 10 to 15 years. A composite deck is weather resistant, insect damage proof, rot-resistant and can last for 25 to 30 years or longer.
Composite Deck
Home owners who are thinking of finding a replacement for their wood decks have options. In general, there are two main types of non-wood decks:
composite

all-plastic
In many instances, composites are favored as a non-wood decking option, accounting for more than half of all products sold. This is because composites look, feel, and act more like wood.
Composites contain recycled and virgin high-density polyethylene (HDPE) and about 50% wood dust from sawmills. There are also a few companies that use polyvinyl chloride (PVC) instead of High Density Polyethylene (HDPE).
The fiber content improves the stiffness of plastic and reduces its tendency to move as temperatures change. Composites also roughen the texture of the final product for improved skid resistance.
The material is easier to cut and install than all-plastic decking. In contrast to the wood deck, composite decks do not require a finish of any kind, making them easier to maintain than solid wood. More on this here.
Composite boards are manufactured by mixing plastic with natural fibers like glass fibers or sawdust. All-plastic lumber consists of plastic mixed with color pigments and additives that include ultraviolet inhibitors to provide protection against the sun.
According to the American Composites Manufacturers Association, in 2017, the glass fiber market produced a volume of 2.5 billion pounds of composite materials.
In the composites niche, glass is the main fiber used in bridge decks, boats, corrosion-resistant pipes and tanks, and blades for wind turbines. Within composites, the global market for fiberglass is about 5 million MT each year, which makes up under 2% of the market size for glass fiber.
Considering it is relatively economical, glass fiber offers many design advantages and is much stronger than steel in tensile strength, and almost as strong as industrial-grade carbon fiber.
Glass fiber has high elongation which enables structures to absorb greater impact or abrasive forces when paired with high-elongation resins (5% strain-to-failure for E-glass. Compare this to carbon at 1.5-2.0%).
According to Science Direct, glass fiber reinforce polymers (GFRP) can adhere to a variety of polymers. "GFRP has several advantages including high strength to weight ratio, high fracture toughness, and excellent corrosion and thermal resistances".
It has become the standard form of fiberglass, making up more than 90% of all glass-fiber reinforcements. At least 50% of E-glass fibers are made up of silica oxide. Other components include oxides of aluminum, boron, calcium and/or other compounds, including limestone, fluorspar, boric acid and clay.
Advantages of Composite Decks
We look at the advantages of composite decks:
Low maintenance and long lasting: Composite decks are long lasting and can be cleaned with soap and water. Because of its plastic content, composite decks do not splinter nor rot, and resists

mold and mildew

. As a contrast, wood rots. Residential wood decks have to be power washed, inspected for rot, sanded and stained.


Dimensionally stable: Composites retain their shape and size in external environments ─ when they are hot or cool, wet or dry. Wood, on the other hand, swells and shrinks when humidity changes.


Resistant to pest damage: Composite decks are pest-free. They are also ideal for everything from window frames to retaining walls. On the other hand, termites, carpenter ants, beetles and other pests eat away at wood and can cause extensive damage.


Lightweight: Composites are easier to handle and cost less to transport and can be installed in remote areas.


Customizable to your needs: Composite boards for decks are routinely available in board lengths up to 20 feet. Depending on the size of your deck, you can have fewer seams on your deck. On the other hand, wood planks are typically sold in 16-foot lengths.
A minor downside is that composite decks can fade just a little in the few months following installation. However, after that, composite decks hold their color for years.
Talk to Us
If you have your own idea for a composite product, we can make it. Our experts have over 50 years of experience with pultruded products. From unique designs to customized colors and patterns, we can make exactly what you need for your next project.
Get in touch with our team today to learn more.