Pultruded Supports for Barns, Decks and Porches
by Tencom Ltd.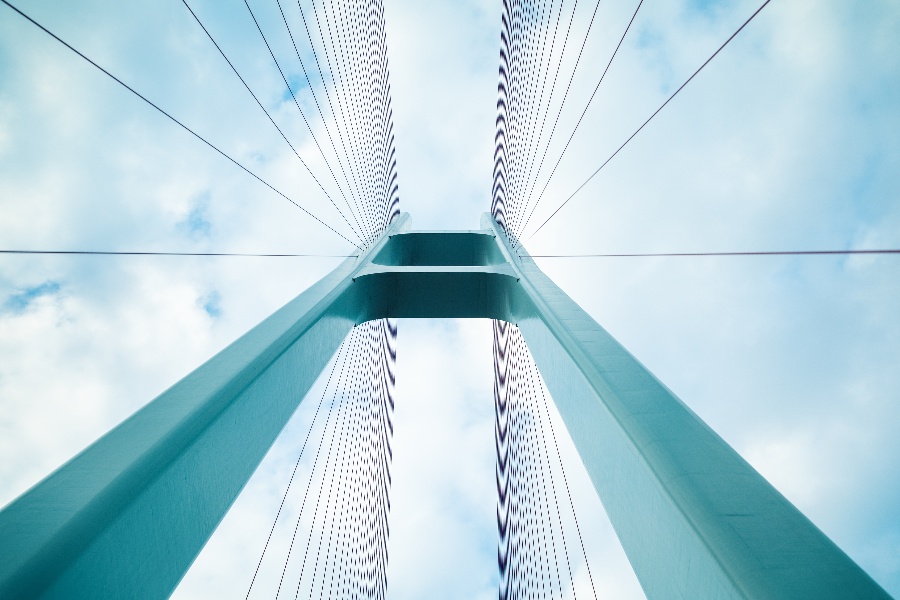 Water, weather elements, wear and tear and even pests can cause wood, steel or concrete to deteriorate which impacts the integrity of a structure or building.
When the structure is first erected, it has to meet commercial objectives and government regulations. And yes, while the cost of such materials may meet a stakeholders' objectives in the short term, additional costs to repair and replace over the long term can eat away at the bottom line.
Disadvantages of Steel or Wood Supports
1) The structure weakens over time: for example, steel supports can corrode ─ even if these are galvanized ─ which can weaken the structure so much that in the worst-case scenario, it collapses.
2) Stainless steel supports are costly and difficult to handle and assemble because they are heavy and difficult to move, requiring a crane to handle the supports.
On the other hand, Fiber Reinforced Polymer (FRP) supports are lightweight, have high tensile strength and are relatively easier to handle, assemble and install. For example, pultruded fiberglass profiles are extremely lightweight, at about 30% lighter than aluminum and 70% lighter than steel. Also, compared to stainless steel, FRP profiles are more economical and can be used as supports for barns, decks and porches.
Additional advantages of FRP support include:
Moisture resistant
Resistant to insect damage: termites, fungus, and bacterial growth
Recyclable
Long-lasting and durable
Why FRPs Are So Strong
FRP supports are manufactured materials comprising reinforcement fibers, polymer resin(s), and additives. These are created in a process known as pultrusion to achieve the desired performance properties.
This combination creates an extremely strong and durable material that can be used to support structures and buildings such as barns, decks and porches. The type of reinforcement fiber will depend on the requirements of the specific application.
FRP composites can be manufactured with different properties—many of which can be attributed to the specific resins used in their manufacture. For example, if you need a profile that is fire resistant, Tencom has a fire retardant polyester resin system. If you want a product with properties that resists fatigue, ask for super high strength epoxy or polyurethane.
We can work with you to produce a profile that meets your project's needs.
Types of Resin
There are many resins on the market that are used in the pultrusion process. These belong to two broad categories: thermoplastic (which we will cover below) and thermoset resins.
Thermoplastic resins are a class of resin that after curing, have a determined melting point: they can be reheated and reshaped many times.
In contrast, thermoset resins do not have a determined melting point: during the curing process, they set into a rigid final form and cannot be reheated and reshaped.
Depending on the application of the product, these resin categories each have benefits and drawbacks so before you make a decision on which (category) to choose, find out as much as you can about each.
Additionally, additives can be added to the resin to enhance specific properties such as UV protection, fire retardancy, reduced shrinkage, and so on. Therefore, choosing the right resin is just one step of a multi-part process.
Examples of Thermoplastic Resins
There are many resins available with thermoplastic properties including (but are not limited to):
Polyphenylene Sulfide (PPS)

Polyvinylidene Fluoride (PVDF)

Polyetheretherketone (PEEK)

Polypropylene (PP)

Polystyrene (PS)

Polyamide (PA)
Increasing Demand for Thermoplastic Composites
The thermoplastic composites market is experiencing high demand and rapid growth across many sectors and industries. By 2025, this market is expected to reach US$31.8 billion, growing at a compound annual growth rate (CAGR) of 7.5%. According to Markets & Markets, the thermoplastic composites industry is experiencing high growth because of attributes such as recyclability, fast processing, ability to mold and remold and some have resistance to high heat. Read a review about thermoplastic pultrusion here.
However, in 2020, the demand for thermoplastic composites declined as COVID-19 has made its impact felt in industries across the board. But, the good news is that the removal of restrictions on cross-country travel and recovery in the end-use industries will stimulate the demand for thermoplastic composites during the forecast period.
How FRPs Are Made
Let's take a dive into the pultrusion process:
In basic terms, pultrusion is a method of FRP manufacturing that pulls continuous fiber materials through a resin bath for reinforcement. The liquid resin soaks the material and impregnates it with a range of technical and performance properties depending on the resin used. Once saturated, the material is shaped and cured (polymerized).
The resulting FRP profile has a consistent cross-section shape that is ready for cutting into a required length. This process is energy efficient, eco-friendly, affordable, and produces little waste. It is the preferred technique for rapid production and continuous manufacturing.
Why FRP?
FRPs are an ideal choice for use as supports for barns, decks and porches because they are:
FRP components are extremely lightweight compared to wood, steel and aluminum. This makes them easier to handle, install and cheaper to transport. They do not require heavy moving cranes and so on. The pultrusion process produces lightweight profiles, and this results in keeping shipping costs at a minimum.


A profile with more than 2000m2 of Z200 can be transported by a usual 40ft container, while one person can manually carry poles with short lengths, reducing the time needed for cranes.
FRPs are pest (and corrosion) resistant and require low maintenance. FRP is extremely durable and are especially suited for heavy-duty usage in a broad range of environments. FRPs are corrosion-resistant and are capable of withstanding salt, water, chemicals, and other harsh weather conditions without deterioration. This makes pultruded supports ideal for environments that need to go into the ground where insect degradation is predominant. FRPs can last for up 100 years with very little need for maintenance or repair.


An FRP profile is customizable and can be manufactured to meet your exact application requirements where size, shape, color, and functional features can be tailored to ensure smooth and easy installation.


Short production and installation time. FRP are prefabricated which allows crews to install each part much faster. This makes FRP suitable for construction projects in public areas that have tight timelines and limited construction hours.
Talk to us
By evaluating the different resin options available and the applications each is best suited for, we can tailor the resins used to fulfill your design and performance specifications. Contact us and talk to our team of experts.